In this episode of the Firefish Software Recruitment Podcast, John O'Sullivan joins Wendy to talk through how an agency owner can determine their business' worth.
John is an experienced recruitment leader, working as a Non-Executive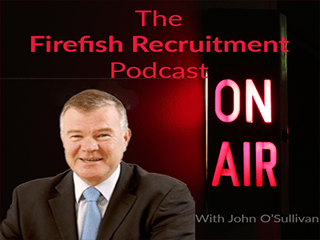 Director for several carefully selected, high growth companies in the recruitment sector. As the Chairman of Elite Leaders, a membership organisation for forward thinking, ambitious recruitment leaders, John advises agency owners on creating and determining their business' value.
Tune in to our conversation with John and find out:
How to look at your business like an investor would (7:30)
Why culture is important to investors (14:00)
The value of branding and positioning (19:00)
As always, let us know what you think with a comment below. All previous episodes of the Firefish Software Recruitment Podcast are available on both iTunes and Soundcloud.
John's 8 Point Valuation Guide
Point 1 (7:30) - Look at your business like an investor would.
Point 2 (9:56) - The business needs a healthy mix between contract and permanent revenues.
Point 3 (11:15) - You need to have a good mix of clients. If you're over reliant on one client or contractor, you're not as valuable.
Point 4 (12:24) - You need good people and a great culture!
Point 5 (16:00) - Organise your management team and have a succession plan in place. But that doesn't mean you as an owner shouldn't be involved with the business! Finding a balance is key.
Point 6 (19:00) - Brand and position your company well. What are you famous for, and are you famous to the right people?
Point 7 (23:10) - You need to implement systems that help you act like a big company as soon as possible in your business' journey.
Point 8 (25:30) - Make sure you're spending time with the right people and the right companies. Who you work and spend time with says a lot about you.
You can find John via Elite Leaders, on LinkedIn, and on Twitter.
About the author: Wendy McDougall is the CEO of Firefish Software. With just under 20 years experience in the recruitment industry, Wendy is on a mission to inspire the next generation of recruiters and help challenge the traditional recruitment agency model of doing things. In her spare time, you'll find her enjoying some down time with the family, playing squash and feeding her inner geek with all the latest technology!