Join us on our 5th Predictive Recruitment Podcast, where Alan talks to Social Recruiting Strategist, Steve Ward, about social selling and the importance of inbound marketing in recruitment. This episode is full of actionable tips including some excellent advice on crafting outstanding content for your blog.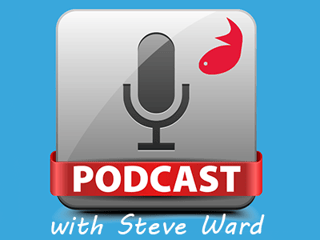 Steve discusses how to pick the right channel to market your writing, and how social media can bring relevant and better engaged interactions to a business. Alan and Steve consider ideas of branding, alongside a discussion on transposing face-to-face charisma into a digital environment effectively.
Tune into our latest podcast and discover why social networks are the best forum for a recruitment agency to source new clients and candidates, and find out how to build credibility by lending your brand's voice to relevant industry conversations.
Alan poses some excellent questions, and Steve provides some illuminating insights into the recruitment industry. For recruiters, this podcast really shouldn't be missed. Find out how to:
Get the most out of social channels like Twitter and LinkedIn
Use social media as a tool for brand building and attraction
Create and market relevant branded content
Podcast Timeline
Intro: 0:10 – 02:36 (Theme, End of Q1, Why Should Recruiters Use Social Media?)
A1: 02:36 – 04:40 (Steve's opinion on the importance of social media for reaching a relevant audience.)
Q2: 04:40 – 04:42 (What can recruiters achieve with social media?)
A2: 04:42 – 06:38 (Word of mouth advertising, relationship building, and relevancy.)
Q3: 06:38 – 07:07 (How can social work as a tool for attraction and brand building?)
A3: 07:07 – 09:31 ('Get your market to talk to you by creating resonance.')
Q4: 09:31 – 10:05 (How can recruiters get started on social media?)
A4: 10:05 – 13:42 (Join conversations, get to know your audience, and build from there.)
Q5: 13:42 – 14:28 (How do you go about networking on Twitter?)
A5: 14:28 – 17:46 (Create human connections, and make every interaction a positive one.)
Q6: 17:46 – 18:14 (How can recruiters take their face-to-face charisma online?)
A6: 18:14 – 21:11 (Recruiters are gifted talkers, so get involved with relevant industry conversations.)
Q7: 21:11 – 21:20 (What does good content look like and how can recruiters create it?)
A7: 21:20 – 24:30 (Write about relevant industry 'hot topics'.)
Q8: 24:30 – 25:48 (Key Takeaways.)
25:48 – 26:26 (Steve's Contact Info.)
If you'd like to get in touch with Steve, you can find him on LinkedIn, Twitter, or Facebook.
Our entire podcast back catalogue is available on our Soundcloud page. Head on over and hear insights from leading voices in the recruitment sector talking about the future of our industry.
As always, reach out to us with any thoughts, suggestions, or questions. And download our free ebook on how to develop a social media strategy for your recruitment agency below to kick start your social selling efforts!