With over 4 billion daily active email users and 35% of marketers sending up to 5 emails per week, it's obvious that email marketing holds huge power in the marketing world – and yes, that includes recruitment marketing! But with such fierce competition and your clients being flooded with email updates every day, how do you stand out? And how do you make your emails good enough to stand out and cut through any spam you may also receive daily…
We have just the recipe for you – so let's dive in!
What is email marketing in recruitment?
Recruiters tend to use email marketing mostly to keep their candidates and clients warm, whilst building their brand and position as experts on the market. You can send out weekly newsletters with available roles tailored for the candidate, tips and tricks when looking for a role, or even blogs or content that you have produced that would be relevant to your candidates, by sharing this or even articles from other sources that would be relevant again this is cementing you as an expert in your field and someone that will there to help when needed.
Did you know that over 85% of recruiters rely on email marketing as their top way of keeping those candidates warm? Some of the best advantages of email marketing are the ability to showcase your expertise (for example, by sending helpful blog articles and tips) and staying in the back of candidates' minds at all times – who knows when they decide to change jobs!
Subject lines matter
As much as it might seem obvious, subject lines are the most important initial part of your email – if your subject line doesn't create curiosity or urge to take action, nobody is going to even open your email in the first place.
A good subject line not only creates curiosity and urgency but also awakens some type of emotion in the reader. With such a high volume of different types of content that goes into their inbox, your subject line should make your reader feel in order for them to take action. If it doesn't speak to a certain problem they might be struggling with or provide value, they will simply scroll on.
A great way to go about figuring out your best subject line is to test different ones against each other and see which results in a higher open rate. Remember that your subject line can't be too long – around 45 characters – or too plain. Depending on the type of your email, you can adjust which style is best – the one that creates an urgency to click (for example in promotional emails), the one that builds a connection (in nurturing campaigns), or the one that provides a solution to a problem they might be having. With that being said, it's important to find a balance between creating curiosity and not being too clickbaity – if you trick your reader into opening an email that doesn't provide the value that was promised in the subject line, they would quickly mark your emails as spam!
The 3-second rule
After your reader opens the email, it's not the end of your struggles – now, for most marketing emails, you have about 3 seconds to capture the recipients' interest, which means that the way you present your content, the layout, the design, the heading, and the CTA need to be eye-catching enough for them to want to read the actual copy.
Again, depending on the type of your email, the design and layout will be different – but it's important to remember that in any case, the copy should be concise and to the point. Including an attention-grabbing heading that indicates straight away what they may gain from your email is a great starting point – you can test different variations here, such as asking a burning question (that you then provide an answer to), simply stating what the content is about, or providing a surprising fact that will be further explained in your copy - but you should also think about the general layout of your content…
One of the best-performing ones is the inverted pyramid layout – which starts with a heading at the top, then goes into a short copy, and ends with a CTA at the bottom of the email, in the middle.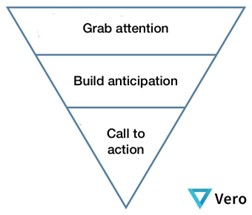 Types of email marketing in recruitment
As recruiters, we must keep tabs on multiple different areas of our job – clients, prospects, candidates, those currently being places, various roles popping up every day… It's a lot to think of! That's where your main types of email marketing come in – you can set up separate automated emails for each purpose, such as:
Candidate emails
With candidate emails, there are various things you want to communicate with them about – and different goals you might want to achieve with that communication. The 2 main email types that you will probably be using are the following:
Bulk emails – Sending to a large quantity at once: Newsletters and updates are typically bulk emails. With those types of emails, you can better understand what resonates with a larger audience and what type of content they're interested in. Some of the most common types of bulk emails would be newsletters, product updates, announcements, or promotions. However, you need to be careful not to spam your candidates with irrelevant content – so the best way would be to make sure your bulk emails are divided between specific marketing personas and aren't sent out more often than once a week.
Nurturing emails – automated emails sent to individuals based on their actions made against a qualifying criterion. With nurturing campaigns, it's important to remember that your main goal should be to warm up your lead and urge them to take action. Most nurturing campaigns include 5 to 7 emails, alternating between ones that provide resources and tips and ones that include an offer for your candidate. It can be used for either qualifying the leads before you pass them on to a client or as a part of the negotiation process itself for keeping your candidates warm for when your client reaches out to them.
Client/prospect emails
The way you communicate with your clients or prospective clients will be wildly different to that in which you speak to candidates. These are going to be a lot more personalised than your bulk or nurturing campaigns because you want to address each client with a specific solution they might need. You probably mostly contact them about new candidates available that will fit their preferences or the candidates that you found for their specific role. You could still send out a newsletter to keep them engaged, but make sure it's relevant to the niche they're in and their current hiring process!
Tools
Here are a few other tools that can help you create the perfect email:
Hubspot and Mailchimp – these are great FREE platforms for sending emails.
Subject line tester – this tool will help you score your subject line, so your emails have a better chance of being opened.
Unlayer – helps you create amazing email templates, drag and drop, with no code required. Those templates can then be easily transferred into HubSpot or Mail Chimp.
To learn even more about how to create an intentional content strategy, read our eBook below!
Amy McLaughlin
As Senior Digital Marketer at Firefish, Amy keeps our Firefish customers up to date with the latest news from the Aquarium.
Subscribe to our blog and receive top content to help you reach, engage and recruit more effectively!