A few weeks ago, we published a blog that looked into the different things that candidates now expect from job ads before they'll even think about hitting that 'apply' button. But it's not just the job ads themselves that need updating if you want to keep attracting top candidates to your roles – it's where you place them too.
Of course job boards still play a massive role in the job-hunting process for candidates, but they're not the be-all and end-all!
So, what other ways are candidates searching for jobs these days?
Through their personal network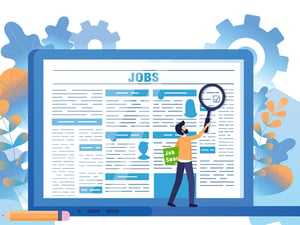 There's no better form of marketing than word-of-mouth marketing in recruitment. The truth is, no matter how excellent your marketing is, candidates will always trust the opinions of those within their own personal network more than anything else - whether this is information they've gathered from their professional community on LinkedIn or just what they hear from friends and family.
What you need to do:
Unfortunately, there's no quick win with this one – the only thing you can do to ensure your word-of-mouth marketing is working for you is to be excellent at your job and always strive to give every candidate the experience they're looking for.
That way, you and your brand's reputation amongst every one of your candidates will be spotless, they'll recommend you to their network, and even become an advocate of your brand online. Having a good candidate referral scheme in place also normally works out well for everyone involved, so if you don't already have one in place, this might be worth considering.
On your website
As you're probably well aware, candidates nowadays are extremely good researchers. Before applying to a job ad, they'll go out and do a lot of their own independent research; visiting websites of companies they'd like to work for and agencies they know are respected in their sector.
The result of this is that often a candidate will have already made up their mind whether they're interested in hearing from you before you even reach out to them!
What you need to do:
Make sure your recruitment website or careers pages are ranking in search engines for all the right keywords relevant to your recruitment niche. Make sure it's easy for candidates to find the information they're looking for, that the site really sells your brand, who you are and what you do, and that your jobs pages are easy to find and apply on. Easy, right?
On Google for Jobs
Google for Jobs may be new to the scene, but it's already having a massive impact on how candidates find our jobs online. 300 million employment-related Google searches are performed every month, and the search engine claims as much as 30% of all Google searches are job-related.
Let's do a quick test: try searching on Google for a job you're currently recruiting for (plus location if it's based outside of your current location). Does your role appear in the Google for Jobs snippet?
What you need to do: With millions of candidates making Google the first step in their job search, what are you doing to ensure it's your jobs they come across and not someone else's?
For a start, you need to be making sure all of your job pages have the Google for Jobs schema implemented and that you're providing the necessary details in your job ads so they get picked up by the search feature.
And if this all sounds like gibberish to you, don't worry – we have a whole Google for Jobs playbook to help get you up to speed!
Katie Paterson
Katie once headed up the Firefish blog and marketing team. She now works as a freelance copywriter and continues to contribute to our award-winning blog.
Subscribe to our blog and receive top content to help you reach, engage and recruit more effectively!