Attending industry events is a really important part of being a recruiter. These events are your opportunity to build on your industry knowledge, keep your finger on the pulse and take advantage of all the benefits of face-to-face networking!
But taking time out from your busy schedule can be costly, so it's important to ensure you're maximising the opportunity at every event you attend.
So what can you do to ensure you're getting the best return from the recruitment industry events?
Be selective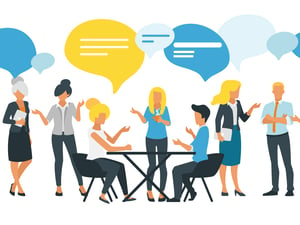 A big part of getting the best return from industry events is limiting your time to the ones that will actually be worth focussing your energy on. Do your research beforehand to find out more about who is speaking, what they're talking about and who's attending.
Run a Twitter search using the event hashtag, check out the attendee list on the Facebook event page, and even put some feelers out to your LinkedIn network to see if there's opportunity there to meet some members of your recruitment community in person. If you don't do prior research to assess whether the event is going to be of value to you, you're wasting money and your own precious time for no return!
Plan your schedule
Showing up to an industry event without a solid idea of what's going on when and where it's happening will pretty much guarantee your time isn't used productively.
Have a good read of the speaker schedule, decide which talks you'd like to attend, and don't forget to allocate time slots you'd like to dedicate to networking. You won't need to stick to your schedule religiously, but you need to go in there with a plan.
Focus on making quality contacts
Networking isn't a numbers game. If you're tactic is to collect as many business cards as possible with the view that if you say 'hello' to enough people, you're bound to see some return – you've got it all wrong. We already know this spray and pray approach doesn't work in recruitment, and it certainly doesn't work for networking either.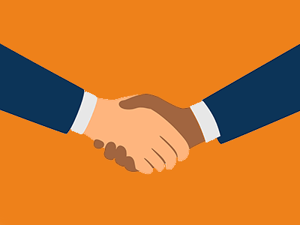 When it comes to making new contacts, it's important to focus on having good conversations that lead to quality connections, and this takes time. In order to make networking worth your time, you want to be asking valuable questions, showing genuine interest and actually listening to what people tell you.
Make notes on business cards to remind yourself what you talked about with that person and what next steps you'd like to take with them as a reminder (are you going to add them on LinkedIn? Meet for a coffee? Email something over to them?). This way, when you pick up the phone to follow up after the event, the contact will feel that they've left a memorable impression on you and this will have a positive effect on the relationship.
Nail your elevator pitch
All going to plan, you'll be having a lot of conversations throughout the day, so having a punchy and memorable elevator pitch will get you off on the right foot. And whilst some people might prefer to wing it, not everyone can pull it off, so it's best to come prepared.
Your elevator pitch is your secret weapon at a networking event - take time to think about your USP and use this to make a lasting impression. If you're looking for some guidance on how to craft the perfect recruitment elevator pitch, check out my blog.
Debrief yourself ASAP
OK, so it's likely you'll end up a few drinks down after the event, but if you can spare a minute to debrief yourself whilst everything's still fresh in your mind, this can be really useful.
Take as many notes as possible during the event then set aside some time to read through them afterwards to remind yourself of the most valuable things you heard and what your next steps will be to make the most of your day.
I'd even suggest creating a debrief doc with bullet points that you can then translate into a to-do list later (for example, adding new contacts, putting future events in your calendar, sending emails to those you spoke to while you can remember what you spoke about, etc.).
And if you're looking for a nudge in the right direction when putting together your follow-up email to send to those you meet at industry events, download our email template tool for recruiters below.
Joanne Causer
Joanne is a Senior Growth Specialist at Firefish. She loves bringing on board new recruiters who are looking to recruit smarter.
Subscribe to our blog and receive top content to help you reach, engage and recruit more effectively!