Here at Firefish, we absolutely love podcasts. We're constantly recommending our favourites in the office, so we thought we'd share the recruitment podcasts we can't get enough of.
Here's our top eight recruitment podcasts. If your favourite isn't on this list, please let us know in the comments – we'd love to check them out!
1. The Recruiting Brainfood Podcast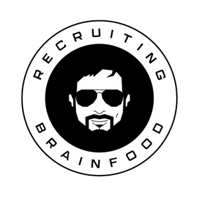 Just like his famous Recruiting Brainfood newsletter, Hung Lee packs his podcast with relevant and thought-provoking content about the recruitment industry.
Every week, he's joined by a different industry expert to discuss the trends that are impacting recruiters and changing the industry as a whole. It's an awesome hourly podcast that we genuinely look forward to each week!
Good for: Anyone interested in recruitment trends and insights.
Listen to the Recruitment Brainfood Podcast >>
2. The #SocialRecruiting Show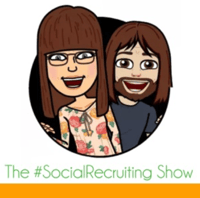 When she's not hosting popular industry events or writing books Katrina Collier hosts the #SocialRecruiting Show alongside 'talented Talent Acquisition professional', Glenn Martin.
This Podcast is great if you want to grow an online brand (whether that's company brand, employer brand or your own personal brand as a recruiter) as Katrina and Glenn cover all things recruitment marketing, sourcing, employer branding and social media.
The show is streamed live every Friday at 3pm (GMT) on LinkedIn Live, but if you can't make that, it's available to download straight afterwards on most podcast platforms.
Good for: Everyone
Listen to the #SocialRecruiting Show >>
3. Recruiter Startup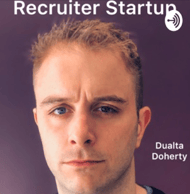 You'd be hard pushed not to come across Dualta Doherty at some point online as a recruiter as he's everywhere!
For his podcast, Dualta focuses on exploring what it takes to start and run a successful recruitment business on minimum man power (something he knows a lot about).
He's joined by agencies leaders from around the world who share their challenges and successes in the recruitment industry to find out the best methods for setting up, scaling and operating a world-class recruitment agency.
Good for: Agency owners and recruiters looking to start their own recruitment business.
Listen to Recruiter Startup >>
4. Recruiting Future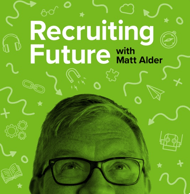 Are you concerned about futureproofing your recruitment strategy? If you are, you have to check out this podcast.
For each episode, Matt interviews a new guest to get to the heart of the latest trends and the rapid digital transformation we're seeing in HR and recruitment. There's a big focus on the future of the recruitment industry, so this podcast should leave you feeling ready to conquer the recruitment of today, tomorrow and beyond.
Good for: Anyone interested in recruitment trends and insights.
Listen to Recruiting Future >>
5. Recruitment on the Go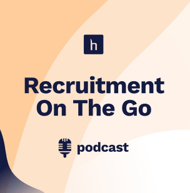 In this podcast, hosts Caitie and Mingus offer a wealth of straightforward advice that you can immediately put into action to improve your recruitment strategy.
It's great one-stop-shop for hints and tips as they publish in five 15-minute episodes every week – so it's perfect for a quick dose of daily wisdom.
The series has been on a summer break but it's returning for season two in the coming weeks.
Good for: Anyone looking for quick recruitment tips.
Listen to Recruitment on the Go >>
6. The Recruitment Rollercoaster Podcast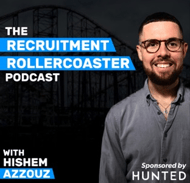 Recruitment is a rollercoaster, there's no doubt about that!
In his podcast, Hishem Azzouz invites recruiters onto the show to talk about the highs and lows of working in the recruitment industry that make a career in recruitment such a crazy ride.
It's a real and honest view of the recruitment industry, making it a relatable and interesting listen. If you know anyone considering starting a career recruitment, make sure they check out this podcast first – it'll help prepare them for what they're getting into!
Good for: Agency recruiters and recruitment newbies
Listen to the Recruitment Rollercoaster Podcast >>
7. LinkedInformed Podcast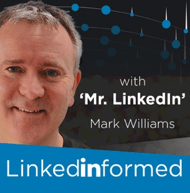 This podcast might not be specifically about recruitment, but as LinkedIn is a vital tool for many recruiters we had to include it.
Mark Williams (aka Mr LinkedIn) is an expert in all things LinkedIn and has been training people on the platform for eleven years!
There's over 260 episodes of LinkedInformed and with new episodes released every week, there's no shortage of tips, updates and interviews from Mr. LinkedIn.
Good for: Anyone who is actively using LinkedIn
Listen to LinkedInformed Podcast. The LinkedIn Show >>
And what's number eight, you ask? That would be the Firefish Recruitment Podcast! Click below to tune in: