More vacancies are being filled today with online applications than ever before. And with this number continuing to grow you need to make sure the online journey for your candidates is in good shape.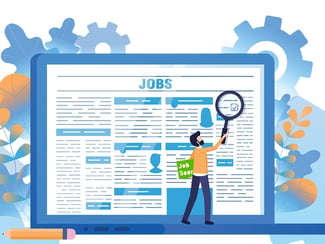 Undoubtedly the simpler, smoother application processes will see the highest number of return visitors. If your online journey allows you to process the top talent efficiently whilst providing the best user experience and enhancing your brand then you're on the right track. Those which are clunky, inconsistent or even broken will of course have a much lower response rate, which isn't good for anyone.
Application entry points
Candidates will come across your vacancies in different places and apply to them through various channels. If any aspect is difficult to use or not working correctly then you'll not only miss out on the application for that role but you'll most likely lose any applications from that candidate for any future roles you may have.
Through the use of recruitment software you can now take full advantage of the many free advertising options available online, getting your vacancies even more exposure and saving you costs at the same time.
The journey itself
Take some time to analyse your candidate application journey looking at the different methods of communication received and the timing of each. It may surprise you just how much room for improvement there is. Even just the look and feel and the branding throughout. Is your brand evident at each stage?
Recruitment software now improves this process and allows candidates to login and take ownership of their own profile and market themselves to potential employers. The software also allows you to see a complete action history of all correspondence so you don't have to waste any time asking candidates questions they've already answered.
Rejected candidates
Recruiters not providing feedback to candidates is one of the industry's major pain points however through the use of recruitment software you can turn this previously arduous and time consuming task into one which you can use to your advantage. By automating the process this saves recruiters time but ensures each candidate receives a personal response at each stage.
How happy your rejected candidates are is also a good measure of your recruitment process so you could consider sending them a short survey from time to time. If your rejected candidates are happy then those you actually place will probably be ecstatic.
Summary
Candidates expect a seamless journey when making online job applications. With the market in the state it's in and the number of free online advertising options available there are now a huge number of applications for vacancies.
Recruitment software can centralise and automate part of the process for you which means far more opportunities for you to build relationships with the talent of the future. Those who focus on providing the best application experience for candidates will win the largest share of the talent pool and those who don't will be left behind.
What are your thoughts? How do you ensure your candidate user journey is up to scratch?
Wendy McDougall
Wendy McDougall is Chief Fish of Firefish Software. In her spare time, you'll find her playing squash or feeding her inner geek with the latest technology!
Subscribe to our blog and receive top content to help you reach, engage and recruit more effectively!