Followerwonk – that lovely Twitter app which can so easily be mispronounced – is a big favourite of the Barclay Jones team. It does lots of gorgeous things and you can get value from it even if you don't use Twitter. You will have heard lots of my peers getting giddy about how it can help you source candidates/talent.I love it for that, but I'm even more of a fan of some of its other (free!) features which can help recruiters (and mere mortals) be more competitive and effective online. ROI, stalking, metrics, crystal balls…
Stalk your competitors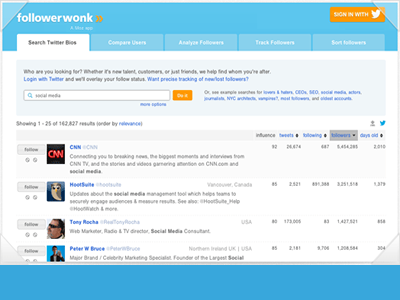 • You can study your competitors feeds to see when their followers are online – why would you want to do this? Well if you want to get more followers and attract attention of your competitions' followers, you need to be at their party
• You can study where your competitors' followers are in the world – handy info
See when you should be tweeting
You'll read blogs which say that you need to wear blue knickers on a Monday to get the best engagement. That's cojones! You need to study when your followers (real or ideal) are on Twitter and tweet at those times (and if you want to wear your blue nickers, then be my guest).
Use Followerwonk to review your own, your competitors' and/or thought leaders' followers and see when they are online, and then tweet at those times. If you're clever boys and girls you can link this up to your Buffer and schedule your content. (By the way, there seems to be a trend for social tools being a little on the rude side… Buffer, Followerwonk… what next?)
Get some lovely ROI metrics
Sick of being asked what you actually get out of Twitter? Check out some of the metrics in Followerwonk which might keep your boss happy and your peers jealous. Perhaps the metrics could even kick your butt to get you more focussed!
Check out this video – it's 3 minutes of dancing and cute apps. Let me know how you get on.
Pimms o'Clock!
Now for your final challenge. Off you go and neck a Stella and say Followerwonk 5 times in quick succession and see if you can (not) slip up!


About the Author: Lisa is a Director of Barclay Jones, a consultancy working with agency recruiters on their recruitment technology and social media strategies. Prior to Barclay Jones she worked in a number of Recruitment, IT, Web and Operations director-level roles. She is a technology and strategy junkie with keen eyes on the business process. You'll see Lisa speaking at many recruitment industry events and being a recruitment technology and social media evangelist online. She works with some of the large recruitment firms, as well as the smaller, agile boutique agencies.
Lisa Jones
Barclay Jones founder Lisa Jones helps recruitment leaders and marketers set ROI-led goals and use digital marketing strategically.
Subscribe to our blog and receive top content to help you reach, engage and recruit more effectively!