So the noise of the internet and social media has replaced the noise of the busy recruitment office. It used to be 150 recruiters squeezed into an office big enough for 10 people, enough space around your chair to push back to go to the loo, no pcs, lots of paper, lots of white shirts (with coloured cuffs and colours), ties and attitudes. The big billers had (corded) headsets and ruled the roost by standing up when they talked on the phone! Memories…
That was how we used to sell – and perhaps how many recruiters still sell (and if that works, who am I to raise an eyebrow?)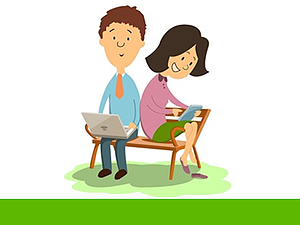 But keeping your contacts warm – them being aware of you, aware of your offering, speciality, your candidates/jobs - is flipping crucial in the super noisy highway that is now the internet.
Apparently LinkedIn is the wild west of the recruitment industry. I hear people (non-recruiters) complaining about the amount of inappropriate approaches they get. LinkedIn often feels like it's rife with gun slinging recruiters shouting like tourists in a foreign land, attracting the wrong kind of attention. Many of them have taken their more traditional behaviour and gone online and are SHOUTING LOUDER. Things needs to get a little more sophisticated.
Listen Dammit!
I've always been taught that listening is more important than talking. (My head teacher taught me that after numerous stints of me having to stand outside of his office after constantly being disruptive in class.) Oh the shame!
Recruiters who listen often hear the maddest things. Problems their clients need solving (with talent), new offices opening, expansion (contraction) – endless opportunities for you as a recruiter to work more collaboratively and offer real value. As a recruiter I hope you have a target for warm calls. These calls are crucial to your workflow and an important part of your relationship-building process.
Massaging your Contact List
Keeping your contacts warm can involve a back rub, a "double duvet" session or perhaps just using a cute bit of tech that you (almost) click onto every day.
The calls are still important, but often the best ways to keep in touch and keep your contacts aware of you is be aware of them. (Alternatively you can continue spamming them with jobs and see if that works!)
LinkedIn has a lovely feature called Keep in Touch. It's so good they have put it in 2 places! Double whammy!
Gone in 60 Seconds
I've created a super-short video for you to watch – you'll eat a cookie in more time… Hey why not do both?! Have a watch and see if you can follow my daily challenge.

Can how many contacts you can clean, warm up, re-connect with, generate a lead from etc… in just 60 seconds a day!
Credit: Image from jesadaphorn via freedigitalphotos.net