Branding yourself and your services online is a powerful way to make sure you stand out in today's crowded marketplace. If you've yet to get in on the hype and build a name for yourself online, here's everything you need to know, plus a list of the best free tools to get you started...
What's personal branding?
The process of building a personal brand involves identifying your uniqueness (USPs) and making a conscious effort to build a reputation and online presence based on your key strengths and the things you want to be known for.
The benefits for recruiters
Stand out from the crowd
Builds credibility and trust with your audience
Establishes you as an expert in your field
Shows authenticity that people easily connect with
Proves you're the solution to clients' and candidates' problems
Attracts higher-quality leads
Best free personal branding tools
Now that you know the benefits of personal branding, it's time to make a name for yourself!
Adopting brand building habits into your routine and utilising these free tools is the key to building a brand that strengthens your credibility and gets you noticed.
Great for: Giving your content marketing strategy focus.
Content marketing is your personal brand's best friend! Consistently creating high-value content with your audience in mind is an excellent way to build credibility. But before you can start writing and sharing content, you need to know exactly what topics to write about. That's where Answer the Public comes in.
This free tool takes keywords and auto-generates reports of phrases and questions that are trending in search engines right now. With this data by your side, you can then begin to create hyper-relevant, topical content that hits the mark and l appear in candidates' searches.

Great for: Designing on-brand assets for all your channels.
Canva is a super simple graphic design tool best used for creating images for YouTube channels, social media posts, blogs and more.
It has a library of highly customisable layouts and saveable templates making it easy to create consistently professional-looking images that are in line with your brand. It even has a logo design feature, perfect for those who are yet to establish their brand's identity.
Great for: Making your copy more engaging.
To get your marketing efforts noticed, every piece of content, from your social media captions to your blog posts, needs to be engaging and insightful.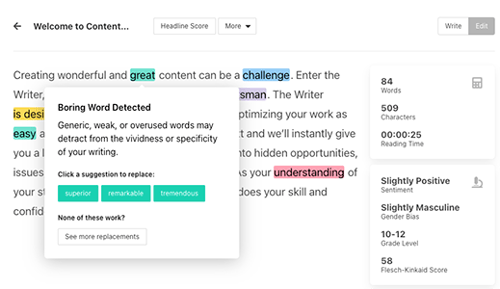 The good news is that with so many content editing tools to choose from, you no longer need to be a copywriting expert to get to this level. Content Row transforms plain copy into content that's conversational, engaging and easy to digest.
Great for: Quickly creating consistent content for every social media channel.
Content Drips is like Canva for your personal branding. It makes crafting quote photos, videos and carousels super simple. To help you accelerate your personal brand quickly, Content Drips gives you one piece of content to distribute on all your channels every day in just a few clicks. It's also got a great LinkedIn scheduling tool.
Great for: Creating personalised and consistent videos quickly.
If you're read the Firefish blog before, you'll know we're huge advocates of recruiters implementing video into their strategy. Videos are an invaluable tool for reaching and engaging candidates and prospects.
Soapbox is a great tool for recording, editing, and sharing videos. All you need is a Chrome extension, your web cam and something to say.
Great for: Generating a professional email signature.
To build a strong personal brand, everything needs to be branded consistently: right down to your email signature. Wisestamp is a free email signature generator that creates professional and informative signatures in just a few clicks.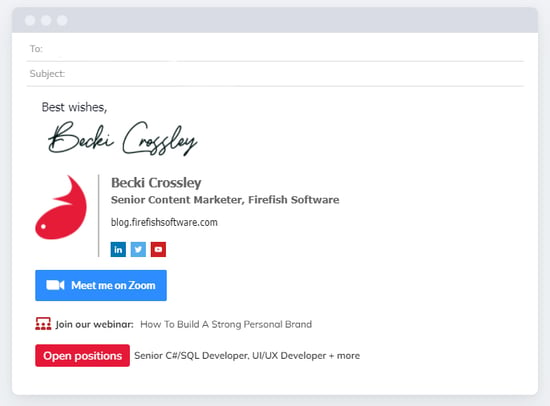 With the easy-to-use template tool you can add in relevant links, social media icons and even your current vacancies so you can sign off every email in style.
Great for: Creating consistently high-quality, professional-looking videos.
Veme.ly is one of the best video creation tools to appear on the market in recent years. All in one app, Veme.ly lets you create consistently high-quality videos for social media that are easy to record, trim, loop and share.
Every video is automatically subtitled, and with over 100 templates to choose from, your content will have a memorable look and feel.
For more free marketing tools that can help boost your personal brand, download the eBook below.
Becki Crossley
Becki is the Senior Content Marketer here at Firefish! She heads up our award-winning recruitment blog.
Subscribe to our blog and receive top content to help you reach, engage and recruit more effectively!