Personal branding is more than just a marketing buzzword. In a competitive industry like recruitment, branding yourself professionally online can mean the difference between getting noticed or fading entirely into the background.
So how do you build a personal brand that gets you noticed? Adopt these good daily habits and you'll build a brand that strengthens your credibility and gets you noticed.
1. Keep your shop window up-to-date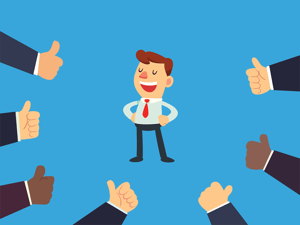 Think of your personal brand like building a shop window: what you choose to display will dictate how buyers (aka candidates and prospects) perceive you and what you're selling (i.e. your niche and services).
Just like any good shop window, you need to make sure it accurately reflects what you sell and showcases the very best you have to offer at all times.
As a recruiter, your LinkedIn profile is the first platform to perfect as this is where you interact most with candidates and clients. Does your LinkedIn profile really sell what you can do? Will it help you stand out and be memorable to your market? If you evolve your services in any way, make sure your shop window reflects this.
2. Create value consistently
Once your personal branding shop window is up to scratch, it's all about creating momentum by being consistently active in providing value. Produce regular content like blogs, insights and surveys and have a regular posting schedule across social media.
Creating value doesn't mean posting a list of vacancies every week. Anything that is clearly going to generate you revenue isn't personal branding, that's sales!
You want to diversify your content, interact with people in your industry and share your insights and opinions in your areas of expertise to show that you're a recruiter worth knowing.
Here's some personal branding content that will demonstrate your expertise.
Industry news
Survey reports and data insights
Testimonials from candidates and clients
Your own observations on the market (it's important to try and be original and including polls or open questions can be good for sparking debate)
Posting this sort of content will get you in the social media feeds of your market and help build your brand and grow your network.
Read: LinkedIn hacks that will help you grow your network
3. Be consistent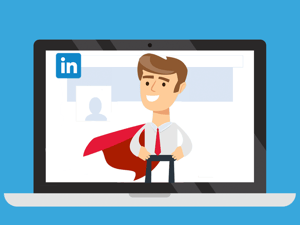 Building a strong personal brand can help establish you as an influencer in your niche, but to achieve this you need to be memorable and recognisable.
Research has shown that it takes 5-7 impressions of you for people to remember you and your brand. Therefore, you need to post regularly so you show up more frequently on social.
This will help you stay front of mind with those in your network, and it'll also help you to develop your skills in producing great content. As with anything, practice makes perfect!
When publishing posts, try to keep your timings consistent as well as the frequency and standard of content.
The easiest way is to give yourself a posting schedule. For example:
Tuesday afternoon – post your vacancies
Wednesday morning – share industry news
Friday morning – share some client or candidate testimonials of your services.
If you stick to a schedule, you won't risk falling off the radar when things get busy. And remember to choose the best times to post!
Read: 7 free tools that will help you build a strong personal brand
4. Set aside time to interact every day
It's easy to think that building a personal brand is all about putting out your own posts out there, but engaging with other people's content can be just as – if not more – impactful on your personal brand.
A lot of great recruiters who spring to my mind have a really strong personal brand from offering fresh perspectives in the comments sections on other people's content, not their own.
I'd recommend blocking out 15 minutes each day to interact with some posts from people in your network (liking, commenting and sharing). This will help build relationships and grow your network.
In a nutshell: making it less about you will make it more about you.
5. Attend events every month
Attending recruitment events is a great way to build your personal brand. Whether you're signing up to online recruitment events or you're able to attend an event in person, get into the habit of saying 'yes' to every event opportunity that comes your way. Or better still, start your own online events!
Recruitment events like the recruitment agency expo are great for networking with other recruiters but industry-specific events are branding gold too. The more niche the better as you'll have less competition and you can network with potential clients and candidates.
Going to events also creates opportunities for great content - shout about attending and provide comment on your experience and learnings. Attending these event looks good for your personal brand as it shows you genuinely care about your industry.
Social media is an incredibly powerful tool selling your your services, and your brand, to clients and prospects. Download the eBook below for everything you need to know about social selling.
Andrew Watson
As Product Marketing Executive Andrew shows off all the Firefish features that help change the way you recruit. Keep an eye on our news page and social channels to see what's new with Firefish each month!
Subscribe to our blog and receive top content to help you reach, engage and recruit more effectively!