When your job requires reaching targets every month, it's easy to find yourself in a never-ending cycle of fighting the clock and chasing your tail to keep up. But recruitment doesn't need to be like this! If you work smarter, you can achieve the same (if not better) results in far less time.
Working all hours of the day doesn't necessarily mean you're great at your job, it just means you've got lots of stamina. And with a solid recruitment strategy and the right technology at your fingertips, you'll be able to reach, engage and convert top quality candidates at an accelerated pace - without running yourself into the ground.
So... what's the secret?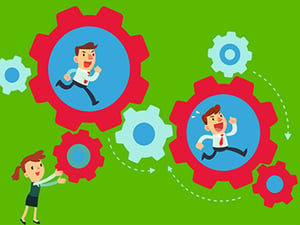 We believe the fundamental key to recruiting smarter is to create a system where you're not solely relying on your own hard graft to source candidates, but you have a constant flow of top talent coming straight to you, too.
It's a system where all your recruitment activities and processes are aligned with each other, so the entire recruitment process is as quick and seamless as it can be.
If you're successfully operating a well-oiled lean, mean recruiting machine, you'll be generating a consistent stream of highly engaged candidates, which in turn will become prospects and – before you know it – you'll have a valuable, engaged, and up-to-date database of candidates waiting to be your next placement.
How to create your recruiting machine
So what are these steps to creating a super-efficient and highly productive recruitment machine?
Establishing your story
Understanding your positioning
Becoming a talent magnet
(Re)Engaging top candidates
Ensuring you're sales ready
Automating your processes
Analysing your performance
Download our latest eBook below to find out what these steps entail and learn how to put them into practice so you can begin recruiting more top-quality candidates with less graft!
Wendy McDougall
Wendy McDougall is Chief Fish of Firefish Software. In her spare time, you'll find her playing squash or feeding her inner geek with the latest technology!
Subscribe to our blog and receive top content to help you reach, engage and recruit more effectively!