When you don't have exclusivity on a job and are working on a contingency basis, you have no choice but to keep quiet about who your client is when promoting your job ads. But there are serious pay-offs to going that extra mile to secure the role on an exclusive or retained basis – and branded job ad campaigns is one of them!
Here are four reasons why branded ad campaigns will get you higher conversion rates, better quality candidates and a quick, right-fit placement when recruiting for a role.
Branded job ads get greater exposure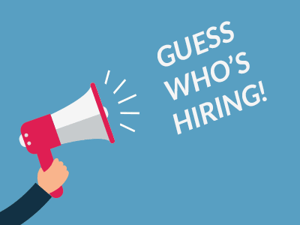 If the client has a strong and recognisable brand that you know is appealing to candidates, running a branded job ad campaign will allow you to leverage their existing popularity to boost candidate applications.
Many candidates will follow companies or save searches related to brands they'd like to work for. If an opportunity comes up to work for these brands, this will present an opportunity to chat to candidates that aren't active on the job market and get them even more excited about your client's opportunity.
Google for Jobs is also set to make leveraging a client's brand to get greater exposure even more fruitful too, so it's likely exclusivity will become more commonplace when the tool officially rolls out.
Provided you have the job posting schema implemented on your website, Google for Jobs will prioritize client-branded vacancies that can confirm the exact location of an opportunity over any opportunities that can't, so these are the ones we'll see appearing at the top of google searches for job-search queries.
And if you have exclusivity on that role, all traffic will be directed straight to you – you won't have to share any of that candidate traffic with other agencies who are recruiting for the same role as they won't be displayed within the
Transparency sells
There's no denying this one – being secretive or cryptic about who the client is in your job ads gets in the way of them converting candidates. And it's easy to see why: If you came across a dream job opportunity yourself, would you be entirely motivated to apply without even knowing who the company was? Not these days, that's for sure!
If you can convince your client to give you exclusivity on a role, and can therefore be fully transparent about who they are in your recruitment campaign, this will result in a more positive experience for everyone involved.
Why? Because not only does exclusivity prevent situations where the candidate unintentionally applies for the exact same job across a few different agencies because they've come across cryptic job ads all covertly advertising the same opportunity, but you also get less time-wasters as every candidate that applies will have already checked the company out and be genuinely interested in the role.
If you can offer full disclosure on an opportunity, everyone is on the same page. Your job is to add to the client's employer branding by amplifying it to a wider audience that they couldn't otherwise reach themselves.
Employer branding converts candidates
72% of recruiting leaders say employer branding has a significant impact on hiring, but this isn't something that's available to you if you're recruiting on a contingency basis. This is because, quite simply, employer branding is pretty much impossible to leverage when promoting a job if you can't be clear about who the client is!
But the effectiveness of employer branding in both pulling in traffic to job ads and converting them into great CVs to send your client is undeniable. As much as 84% of employees say they'd consider leaving their current job if an opportunity came up at a company with a better reputation!
Therefore, if you're working with a client that has a stong brand, great reviews on Glassdoor and can provide positive testimonials from current staff (preferably video testimonials), tell them how much time and money they could save by making these available to you.
Use these stats to demonstrate how giving you exclusivity on the role so you can leverage employer branding in your recruitment campaign will increase your job ad conversion rates massively and help you make a right fit placement in no time.
Which takes me to my final point!
Branded job ad campaigns increase speed-to-hire
If you're clear about who the job is for, this will bring the pace of the whole recruitment process up a notch. This is because those candidates who apply will already have checked the company out, be interested in finding out more and be happy to hear from you when you pick up the phone to call them.
The quality of applications and CVs also tends to be much higher and more relevant on branded job ads. If a candidate knows exactly who and what they're applying for, they're likely to put in more effort and even tailor their CV to suit the company as well as the role.
With more commitment from the candidate at this early stage, you're setting yourself up for a more positive journey for everyone involved!
When considering all the above, it surprising to think how many clients (and recruiters!) will still go for contingency over retained recruitment. Hopefully we've armed you with some good, solid and positive reasons to take to your client when convincing them to give you exclusivity on your next job.
Now all you need to do is learn the tricks to convince your client to give you the exclusivity over your competitors - download the eBook below to find out how it's done!
Katie Paterson
Katie once headed up the Firefish blog and marketing team. She now works as a freelance copywriter and continues to contribute to our award-winning blog.
Subscribe to our blog and receive top content to help you reach, engage and recruit more effectively!