For all the positives that recruitment AI and automation is bringing to the recruitment industry, I'm aware there's still some anxiety amongst agency owners about what this could all ultimately mean for the future of the agency market. Are we heading towards a situation where our clients won't need us anymore?
From what I'm seeing, I think it's quite the opposite: Our increasingly digital landscape is only intensifying our clients' pain points – and we just need to know how to leverage these pains to make ourselves indispensable.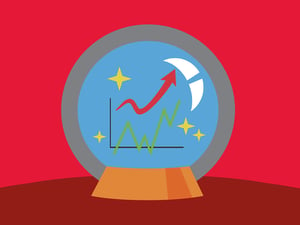 Making yourself indispensable in a technology-led industry is about providing an all-round expert service to clients that they can't handle themselves - not wasting time worrying about computers doing your admin for you!
Automating the mundane admin tasks that slow a recruiter down is necessary if we want to remain competitive in a fast-paced, overcrowded like recruitment.
The current situation
According to this year's CIPD Resourcing and Talent Planning Report, as much as 56% of businesses are reducing their reliance on recruitment agencies and developing in-house recruitment teams instead. But whilst this stat might throw you into an instant panic, this is actually just what happens when the economy is strong, and we've seen this all before (if you're interested in knowing more about how the economic clock affects the recruitment industry, I explain this in more detail in this blog).
And contrary to popular belief, the pain points that our clients look to recruitment agencies to solve are only growing and intensifying as technology advances and the job market changes.
For example…
Every day, the digital landscape is creating new jobs that employers barely understand - or have any idea they might need to be hiring for soon. It's your job as a recruiter to stay on top of these changes and advise your client on how to stay ahead of the curve.
The job market is volatile, and clients need to know how to respond to changes quickly – and it's only going to get harder once Brexit comes along.
The workforce is changing and as new generations of candidates enter the market with different skills, expectations and needs, clients need guidance on how to source, recruit and manage them.
These are all pains that cause businesses a lot of headache, and they'll still be looking to us to identify and solve these (even if they don't realise it yet!).
The golden ticket to futureproofing your recruitment agency is in recognising what makes you so indispensable and letting this influence/dictate how you package up and sell your services to clients.
Download the eBook below to find out exactly how to do this!
Wendy McDougall
Wendy McDougall is Chief Fish of Firefish Software. In her spare time, you'll find her playing squash or feeding her inner geek with the latest technology!
Subscribe to our blog and receive top content to help you reach, engage and recruit more effectively!