Whether you're a Christmas enthusiast or a bit of a Scrooge, like it or not – the festive season is upon us! And the run-up to Christmas is the perfect opportunity to win your recruitment brand some extra attention by building a positive brand image that helps you stand out from the crowd.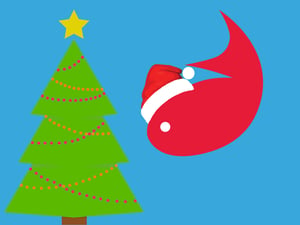 As December can often be a frustratingly quieter period for recruiters, now's the perfect time to ace your branding game so that when the "new year, new me, new job" madness begins, it's your company that candidates will instantly think of getting in touch with first.
So here are some tips on how to use Christmas to promote your recruitment brand and build a positive image of your company during the festive period.
Inject some festivities into your website
As with any branding, your first port of call should be to take a look at your website, as this is essentially your branding mecca; where you ultimately want to be sending both clients and candidates.
One quick and easy pleaser is to simply update your website logo to include something Christmassy – even a photoshopped Santa hat onto your logo can be enough to give your site the festive touch. If you're feeling spicy, you could even download a snowfall plugin to make your visitors feel all warm and fuzzy inside each time they visit your website. Don't forget to update your cover images and user pics on social media too!
Speaking of which…
Share (valuable!) Christmas content on social media
It comes to a point in December when virtually all content that appears in our social media feeds is Christmas related, and with good reason – Christmas sells! As December is busy month for many people (recruiters aside), it can be a real battle to get any engagement on content that isn't light-hearted and Yuletide-related.
Therefore, sharing Christmas-themed content that's relevant to your brand will receive a lot more engagement than you're 'business as usual' content. For example, Advent countdowns always tend to go down well, as these also function as a countdown to getting some much needed time off! However, the important thing here is to make sure you remain relevant and valuable to your users with what you share.

You can also use the festive season as an opportunity to improve your employer branding on social media. A photo of Christmas jumper day in the office, of the company Christmas party or any other indication that you're embracing the festivities will be a good way of personifying your brand and helping you stand out from the competition.

Send festive gifts to clients
Sending Christmas gifts to clients is always going to be great for your company brand, as who doesn't like to know they're appreciated? The more original you can be with this the better, but only go as far with this as makes sense. It's never a good idea to go overboard resource-wise, and make sure you choose carefully when deciding what to send them!
Sending out some branded Christmas cards can also be a nice touch, particularly if you have the time and the resources to personalise your message slightly to make your clients feel they're truly valued.
Create a festive email signature
Some businesses like to send out a festive greeting to clients and candidates close to Christmas day, but research has shown that greetings like this, which have no valuable purpose (as well intended as they may be!), can actually do your brand more harm than good.
So rather than clogging up inboxes and getting lost amongst the many other companies sending the same sorts of Christmas emails, why not go for a festive email signature instead? This will spread the festive cheer with every email you send, without wasting anyone's time with hot air greetings.
Start using Christmas to promote your recruitment brand now, and your company will be off to an excellent start come the new year – when being visible to candidates really matters. Embracing the festivities will not only help you stand out as an recruitment brand with personality, but you'll have a lot of fun with it too!
Katie Paterson
Katie once headed up the Firefish blog and marketing team. She now works as a freelance copywriter and continues to contribute to our award-winning blog.
Subscribe to our blog and receive top content to help you reach, engage and recruit more effectively!