As recruiters, we know how important employer branding is to hiring, but it's not always easy to convince clients. They'll happily spend cash and resources on company branding, but employer branding can be a bit harder to push.
And if you've ever lost a placement because your candidate didn't trust your client's reputation as an employer, you'll know just how frustrating this can be.
Clients without a clear, strong and trustworthy employer brand are extremely hard to produce a decent shortlist for - as if the candidate-short market wasn't challenging enough!
Here are 8 employer branding stats that will give clients and prospects a good shake, plus how to use these stats to win more recruitment business.
8 shocking employer branding statistics
Did you know that…
92% of candidates would consider leaving their current company if another employer with an excellent reputation offered them a job.
92% of candidates say they would decline a job offer from an employer with a bad reputation – even if they were offered a higher salary.
73% of the world's most attractive employers (WMAE) say employer branding is a top priority to them.
86% of job seekers will research and employer's reviews and testimonials when deciding if they want to apply to a job.
Candidates trust existing employees three times more than the company when it comes to providing insight into what the company is like to work for.
A strong employer brand reduces staff turnover by 28% and cost per hire by 50%.
62% of Glassdoor users agree their perception of a company improves if they see an employer respond to a Glassdoor review.
96% of companies say employer brand can impact revenue, but only 44% monitor that impact.
How to use employer branding stats to win business
So now you're armed with some stats that make it impossible to ignore how important employer branding is to hiring, here's how to use statistics like this to win new business from both prospects or your existing clients.
Perform a sample employer branding audit
One of the biggest problems when it comes to employer branding is that clients tend to think everyone already knows their brand well and that they have a good reputation as an employer – even when they have no evidence of this.
The best way to give them a reality check is to highlight a few areas where they fall short against their competitors.
For example, do they have a lower Glassdoor rating than most employers in their specific space (and do they know that 84% of candidates will look at these reviews before deciding whether to apply)?
Are there no employee testimonials on their website, whereas a direct competitor has a whole page of their careers site dedicated to employee voices?
Use this information (combined with the stats above) in your business development emails to show you've done your research and highlight how important these things are if you want to stand out and recruit the best talent.
Use stats to create high-value content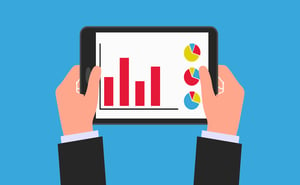 Creating engaging content is always a great way to pull in attention from your best prospects. Think about putting together a professional-looking visual report, blog or whitepaper that covers a lot of these stats (plus more of your own!) and explores why employer branding matters so much.
Use this as a way of opening up a discussion and providing value to your prospects – it's not about asking for anything in return, but just showing you're an expert and that you can help them overcome any employer branding challenges.
You could even work with marketing to create an extensive email campaign to generate warm leads with it. And then, watch as you see prospects come to you.
Use stats in your recruitment sales pitch
When your pitching to recruitment prospects, you could weave some stats into your presentation to show the impact that good employer branding can have on things like quality of hire and turnover rates.
An anonymous case study from an existing client is the perfect way to show them the direct impact a good employer branding strategy can have – particularly one owned, managed and monitored by you!
Which takes me to my next point…
Make employer branding part of your agency's recruitment service package
When you've convinced your clients of how important employer branding really is to their overall hiring strategy, this is when you can step in an offer to do the heavy lifting.
Think about how you could offer employer branding as a chargeable add-on to your recruitment services package.
With all this solid evidence to back you up, it will be hard to refuse! Download the eBook below to repackage your recruitment services and start pulling in more employer branding business.
Amy McLaughlin
As Senior Digital Marketer at Firefish, Amy keeps our Firefish customers up to date with the latest news from the Aquarium.
Subscribe to our blog and receive top content to help you reach, engage and recruit more effectively!