Storing unengaged, dead candidate data in your recruitment database is not only counter-productive – thanks to GDPR, it's against the law now too. And with candidates now having so much more control over their personal data, we need to work a lot harder to earn the right to keep it. But the good news is, we can make this work for us!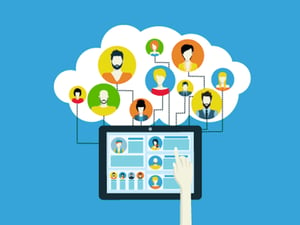 One of the really positive things about GDPR is that it's giving the industry a much-needed push to really value our data and begin thinking of our databases more as a living, active candidate network that recruiters are also part of.
Turning your database into a valuable candidate network doesn't just happen overnight. However, we've established a four-step process that will make your recruitment database more active, engaged and function as a more valuable resource for anyone using it to do their job.
Step 1: Cull your existing candidates
If you haven't already cleaned up your database in preparation for GDPR, now is the time to do it: map out your data, calculate your engagement levels and start to let go of those dead leads that are only serving to clog up your database (and watch your engagement levels go up as a result!).
What we used to do: Leave candidates sitting in our databases for years (sometimes decades, if we're being honest) in the hope that they might miraculously one day be a right-fit for an opportunity somewhere further down the line.
What we need to do now: Let go of any candidate data that's flagged on your recruitment CRM as not having actively engaged with your company in line with your data retention statement.
Step 2: Be stringent when bringing in new candidates
How we bring in new candidates to our recruitment databases also inevitably needs some rethinking. If you're spending all this time cleaning up your database and removing dead leads, why would you start bringing in new data that's not likely going to convert?
All this does is undo all your hard work from step one and creates more work for any recruiters working with your database.

What we used to do: Scrape data and collect as many candidates for our databases as possible, focussing on the idea that the bigger your database is, the more potential value it holds.
What we need to do now: Only collect, process and store data of relevant candidates who are actually interested in hearing from you so you're focussing on quality data rather than quantity. Use a candidate portal to give candidates full responsibility for their own data (and give them a clear indication of which legal basis you're relying on to store their details).
This way, every time your recruitment software flags up a potential-match candidate for a job, there will be a real chance of them converting to placement.
Step 3: Maximise your technology
With GDPR bringing in a lot of additional formalities we need to keep tabs of regarding data management, now's the time to start really using your recruitment CRM to it's full capabilities.

What we used to do: Dig through a 10,000-strong database to find a potentially right-fit candidate when a relevant role comes up – even if that candidate hasn't engaged with you in years and has had two career changes since you last spoke with them. 'Providing value' also often constituted occasionally sending out (often irrelevant) content to candidates that only serves to clog up their inbox and provide no value.
What we need to do now: Use software to automate sending out highly relevant content and job alerts to segmented databases so that you're providing a personalised candidate experience. With software taking care of the administrative side of things, you can focus on engaging with your candidates (often outside of the jobs you're looking to fill) and taking the time to build loyal relationships with them.
Step 4: Look beyond the data
One of the biggest changes the industry is adapting to post-GDPR is the concept of nurturing a company culture that looks beyond recruitment as a data business. Recruitment is a people business at heart – it's about building and nurturing lasting relationships, and our databases should reflect this.
What we used to do: Think of candidates as opportunities, and placements as numbers on a board.
What we need to do now: Stop thinking about the candidates in your database simply as data, but as partners; as part of your valuable network of skilled people who you want to engage with and nurture lasting relationships with throughout their entire careers. In the words of Katrina Collier, we need to let technology handle the admin and so we can #BeHuman for our candidates and ultimately our businesses.
Most importantly of all, you need to give your candidates a reason to want to remain part of your network for the rest of their careers. What value can you provide that will make the candidate feel it will benefit their career by staying on your database?
They may not be interested in a move right now or even in the near future, but you can still keep them engaged with your network by offering valuable resources (occasional industry insights and salary information, for example).
Remember your candidates can now request to be removed from your database at any time. What are you doing to prevent this from happening?
Katie Paterson
Katie once headed up the Firefish blog and marketing team. She now works as a freelance copywriter and continues to contribute to our award-winning blog.
Subscribe to our blog and receive top content to help you reach, engage and recruit more effectively!