Competition is a good thing for any industry, and in recruitment it makes you up your game and strive to put yourself at the forefront of the market. You want to be representing the best candidates and working with the top clients around, isn't that the recruitment dream? There will never be a 'quick fix' but your brand can go a long way. The power of brand- have you ever truly considered it? Branding is becoming increasingly important to recruiters, and this isn't set to change anytime soon.
We've put together a whitepaper on the importance of branding in recruitment, and the key steps you need to take to establish a solid one. We'll hold your hand fin right along the way as you choose your values and decide if you should have a mascot or not. Fish are friends, remember?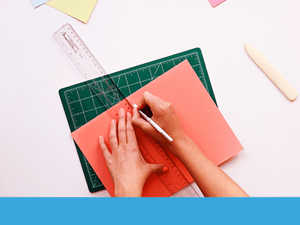 Between those two meaty subjects, you'll also find advice on:
Voice - are you speaking to your audience in the right way?
Personality - when you speak, are you communicating your values clearly?
Logo - It's going to be used a lot, so you want to be sure it's good.
Look - picking your style and spreading it throughout your business.
With the New Year approaching, it's usually a case of out with the old and in with the new but re-branding can be a scary concept. Fear not! If you're looking at your brand for the first time, setting up as a newbie in business or think you could do with a splash of Pantone 485C read on!

You can download the whitepaper by hitting the button below, and if you have any thoughts or questions, feel free to post them in the comments, or reach out to us on social.

Happy reading!
Megan McBurnie
Megan worked as a recruitment consultant, recruiting in the Office Services, General Insurance and Legal markets.
Subscribe to our blog and receive top content to help you reach, engage and recruit more effectively!