From ghoulish clients to candidates ghosting us, we've all got our fair share of recruitment horror tales to tell! With Halloween upon us, we thought we'd collect some of the best, most shocking horror stories from our recruiter network. Warning: This post is not for the faint-hearted!
1. The walking deadly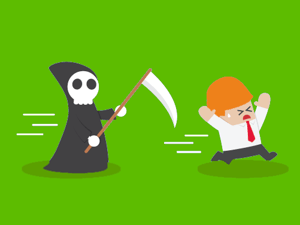 "I once received a call from a client to say there was a problem with one of my temps: His work was great, but he had a significant personal hygiene issue which got worse as the weeks went on and it was becoming unbearable for those around him. I was dreading having the awkward conversation about washing before work, but he really wasn't surprised or embarrassed when I brought it up. The reason for the pungent smell? His girlfriend liked it!
I wasn't sure how to react, but suggested he should maybe have a shower in the morning then run home? And over the weekend, he was free to be as stinky as he wanted to be! Thankfully, he took the advice and stayed in the job. I've no idea if he stayed with the girlfriend, though!"
— Vicki Moir, Head of Happiness & Talent Magnet, Firefish Software
2. Nightmarish nerves
"Our first ever Firefish office was a lot smaller than the open plan Aquarium office we're in now, and the interview room was right next door to the toilet (and we had very thin walls!).

I was half way through interviewing a candidate when they asked if we could take a quick break so they could nip to the bathroom. They then disappeared next door, had explosive diarrhoea then came back in like nothing had happened.

Let's just say I avoided shaking their hand when they left!"
— Wendy McDougall, Chief Fish, Firefish Software

3. Candidate from the crypt
"The candidate failed to show for an interview in Southampton (not Colombia) because he had been 'kidnapped'. The car he was in had an accident which resulted in a coma and he lost sight in one eye.

I checked his record and it turns out he used the same excuse with us 10 years ago!"

— Emma Williams, Recruitment Specialist, Future Employment
4. Curious case of the ghostly temp
"I was paying a temp called 'David Johnson' from Ghana for 2.5 years for temping at a client in Gatwick and billing the client accordingly…only to find out after all that time that he wasn't legal, wasn't called David Johnson and had only worked for the first week of the 2.5 years and had been forging timesheet signatures.
That was one hell of a credit note we had to give back!"

— Steve Ward, Head of Agency Solutions, Candidate ID
6. Ghoulish clients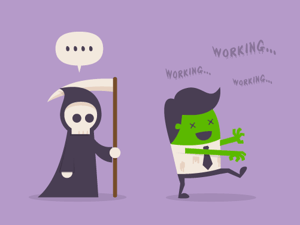 "I used to provide temp staff for events and conferences. For one prestigious conference, I received a request for an assistant to work at an exhibition stand. So far, all normal. However, they were extremely specific in their requirements for this member of staff. They had to be:
"Female, white, blonde, aged 20-25, 5'4" -5'7", no larger than a size 10, not too much make-up but attractive and must be wearing red lipstick, white fitted shirt, black knee-length fitted skirt, heels at least 3" in height."

I was already preparing myself to send an email stating that, in the UK, we do not discriminate on gender, race, age, size, etc. when I read the next sentence…
"Must also be willing to act as escort for the evening, attending dinner and spending the night in the company attendee's hotel room. Time will be paid per hour at standard rate with bonuses dependent on duties carried out."
I decided against a foray into pimping, set the client straight and ensured they were provided with the exact opposite of their request!"
— Vicki Moir, Talent Magnet, Firefish Software

7. The haunted construction site
"I used to recruit for the construction industry and every time there was a major sporting event, I'd have empty building sites to deal with. And when I first moved to Glasgow, my first experience of the day after the Old Firm (Rangers vs. Celtic) was a complete wipeout! I had no idea what was going on.
I learned pretty quickly that this is just what happens in Glasgow!"

— Andy Gardner, Client Success Champion, Firefish Software
8. Trick without the treat
"I once spoke with a great candidate on the phone who was applying for a technical role. He lived in Portugal, and as it was a contract role, the client was happy to conduct their interview on the phone, too.

He was fantastic, answered all the questions brilliantly and really seemed to know his stuff. He flew over to start the job and on his first day I did my usual check-in call with my client, who was very confused. The candidate wasn't at all what they had expected – particularly because he couldn't speak a word of English!

Turns out he'd got a friend he used to work with to do the interview for him, so we hadn't ever spoken with him at all!"

— Vicki Moir, Talent Magnet, Firefish Software
Did you know that a spook-tacular number of candidates apply for jobs in October? Find out how many candidates will apply in the rest of Q4 in our eBook below.
Katie Paterson
Katie once headed up the Firefish blog and marketing team. She now works as a freelance copywriter and continues to contribute to our award-winning blog.
Subscribe to our blog and receive top content to help you reach, engage and recruit more effectively!