Quite often I hear the phrase "ahead of the curve", but what does ahead of the curve actually mean if you are involved in recruitment and in particular, candidate attraction?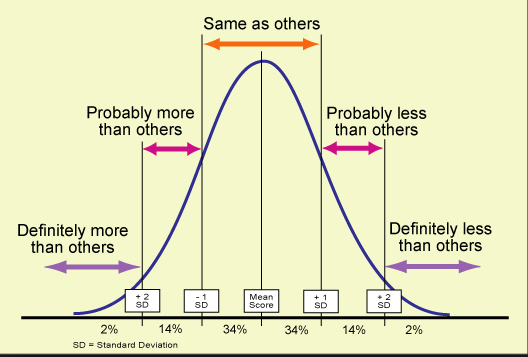 This might be an easier question to answer if I start by explaining what it is not! I believe that it's not (shown in the diagram above) doing the same as others. This isn't enough in the modern world of candidate attraction! Your clients want access to candidates that they can't get elsewhere. Many agencies will attract new candidates into their database via job board advertising, which still has its place for some roles, however, times are changing. Many clients will now simply say that this is something they could do themselves, so why engage with an agency at all? This is not a unique selling point for your agency and it does not help distinguish you from the competition.
Here are my top 3 tips to step ahead of the curve when attracting candidates online:
The Approach
The social selling approach can be a great way to initially contact a new candidate, but you'll get nowhere with a bog-standard message. Candidates can spot a generic InMail that has been sent to 1000 people a mile off. I actually received this InMail last week:
"Good Afternoon, Are you looking for a new position? I have several vacancies that might be of interest to you. Let me know if you are interested. Thanks."
Having looked into the agency in more detail they have no opportunities that are anywhere near of interest to me. It's a candidate-driven market that we are in now, and approaching candidates like this is not good enough anymore. It should have read something like this:

"Dear Cameron, I've been looking over your profile. It's great that you are passionate about technology, software and social selling. I like social selling as well (check out my blog here….) I am currently working with a Fortune 500 tech business that are crying out for passionate salespeople with your skillset. The client has expressed a real interest in people with a recruitment and technology background. It would be great to have an initial chat with you about this. The package is great and there is even an opportunity for global travel - which I noticed from your Twitter that you are interested in. If you send me back the best number to contact you on it'd be great to have a chat." This would have been ahead of the curve!
The Mindset
Another way to stay ahead of the curve (see Same as Others in the diagram above) is to start engaging with candidates whether they are looking or not. Getting into this mindset will allow you to strengthen the quality of the candidates you have access to moving forwards and shorten the amount of time it takes to move to offer stage for future jobs. Build and keep on top of these new relationships.
I'd also start generating content that is helpful and insightful for potential candidates. By doing this you can become the authority in your chosen market. Even if they don't see the "perfect job" on your site or your social media channels they are far more likely to register for job alerts, retweet a job or like a LinkedIn post if they believe in and trust you. It's also worth remembering that building this trust goes a long way when the candidate turns into a client further down the line.
Make Yourself Visible
The next thing to do is make sure that your jobs are SEO efficient on your own website. We now know that the majority of candidates will start a search by going to Google and searching on [Job title] and [Location]. If your jobs pages are not SEO efficient then you're seriously harming your chances of being found by these candidates on the web. Also, Google changed its search algorithm on 21st April 2015. It will start to penalise websites that are not mobile responsive so check this out. Candidates are always on the move, if they can't surf your website from a mobile device then you are missing a trick! The last thing you want is to make it harder for candidates to find you because you forgot to make sure that your website is mobile responsive.
If you are already doing these things then great, in my opinion, you are heading in the correct direction! Continue to strive to stay there, do what others are not, innovate evolve and try new things!
Credit: Image 1
Cameron McLennan
Cameron McLennan works within recruitment technology industry. Outside of work, he loves spending time with his family and playing golf.
Subscribe to our blog and receive top content to help you reach, engage and recruit more effectively!