So, you're reaching the end of another month and you're becoming painfully aware that you're still sitting far off your target.
Those feelings of panic and resentment can quickly set in - particularly when you're watching your colleagues sprinting comfortably towards their targets whilst you scramble around trying desperately to make up your figures in time!
"How do they manage to get a hold of everyone they call first time? Why do their clients always return their calls and I have to chase mine up? Why are their clients making decisions so much faster than mine?"
Does this sound familiar?
And then, once the insecurities start to cripple you, you slip into defensive mode...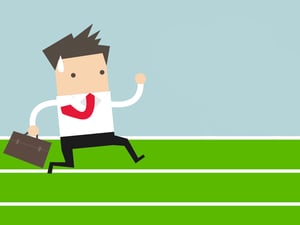 "I have a rubbish sector, I think I'd get much better results recruiting for something else."
"My geographical focus area is harder than everyone else's."
"Aaargghhhh … maybe recruitment just isn't for me?"
This is when you need to dig your heels in deep and say, "OK, rather than blame everyone around me, what can I do to take control of the situation and turn things around myself?"
I've coached many recruiters through situations just like this and over the years, I've learned what works and what doesn't when recovering targets. So, I thought I'd share some techniques you can use if you ever find yourself in the same situation…
Take control
Blaming everything and everyone else for your lack of success isn't going to get you anywhere… except perhaps out the door.
The first step towards corrective action is to assume a positive mindset and face up to the fact that it's you alone who got yourself into the situation – and you're the only one who can get yourself out of it!
Accepting responsibility and taking accountability for the activities you have (or perhaps haven't) been doing puts you in a position that you'll be able to begin analysing your performance in the right mindset and turn things around.
Which takes me to my next point…
Analyse the data
Whenever something in my business isn't going right, the first thing I do is turn to data, and I'd advise anyone struggling to consistently reach their targets to do the same.
The best way to approach this would be to gather all the available data you have on a successful month and compare this against your underperforming month.
Look particularly closely at the run-up of activity levels prior to the current month, as this is where you'll find the answers as to why you're finishing on a bum note: How many leads did you work, where did they come from and how did you generate them from? Then, look at the jobs you took on, the time it took to fill these roles and the average fees you billed.
As an agency owner, I got to a stage that I stopped assuming every recruiter should be on the phone making calls to ensure they reached KPIs. Instead, we focused on the outcomes of actions and worked backwards to decipher exactly what actions needed to take place in order to achieve what we wanted to achieve (and a lot of these actions didn't involve calls!).
Work with your manager
Contrary to how it might feel sometimes, when a manager sees a member of their team struggling, the only thing they're thinking about is how to get this turned around. They don't want you to fail!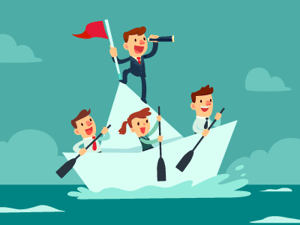 But it's still you who needs to instigate change regarding how you're working and your manager needs to see that you want to make that change.
At times like this, it's actually your attitude that they will be judging the most:
Do you care about turning things around or have you given up and checked out already?
How much support do you need, and do you have what it takes to make the situation better?
The more you level with your manager, the better the end result will be, so don't work against them – they're on your side! Hopefully making some changes will get you back on track, but if the results don't improve, at least you and your manager will be on the same page and you can agree to part ways on good terms.
Everyone goes through periods where it feels like you're walking through thick mud, but if you approach the challenge with a positive mental attitude and use your data to find the path back to success then you and your manager will come through together stronger.
The below eBook has loads of guidance on how to take matters into your own hands by setting personal recruiment KPIs based on what you know has worked for you in the past, and how to weave these into your strategy so you reach target every month!
Wendy McDougall
Wendy McDougall is Chief Fish of Firefish Software. In her spare time, you'll find her playing squash or feeding her inner geek with the latest technology!
Subscribe to our blog and receive top content to help you reach, engage and recruit more effectively!