Staying ahead of trends is important for recruitment marketers for obvious reasons. If you don't stay ahead of the competition, then you'll quickly get left behind. So, to help you remain competitive now and into the future, we've put together a list of 5 recruitment marketing trends you need to embrace…
1. Facebook Jobs and Google for Jobs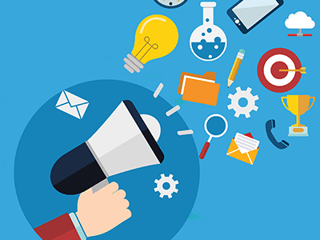 The dominance of job boards for advertising client job vacancies is certainly waning. Of course, it should still be part of your job advert marketing strategy, but it can no longer be the focal point.
Two key developments that have challenged the supremacy of job boards are Facebook Jobs and Google for Jobs. With such advanced algorithms, both Facebook and Google provide excellent tools for marketing out job ads and reaching the right candidates with relevant, tailored messaging.
2. Chatbots and AI in Recruitment
There are smart ways to interact with candidates online and not every one requires manual oversight from the recruiters working at your agency. Chatbots, for example, can be used throughout an application process, providing candidates with regular updates. In general, chatbots can be used as an initial point of contact for candidates visiting your website ensuring they have somewhere to turn if they have questions.
AI is another option for automating important parts of the recruitment process. For instance, AI can improve candidate screening, ensuring that recruiters don't miss important information or overlook excellent candidates. It also means you can guarantee that candidates will hear back from your agency by automating follow up emails and messaging.
3. Increased Reliance on Data
Data is the lifeblood of a recruitment agency but for the most part this data is dead, or at best, outdated.
Recruiters are often working from candidate information that's no longer relevant. And often this data is only looked at on a candidate by candidate basis. A key recruitment marketing trend to invest time and money into is using your agency's data to spot hiring trends. This means you can create better and more tailored job ads, targeted at sectors ready for an influx of candidates. It also means your recruiters can advise clients on the best time to run a hiring campaign for their sector.
How engaged is your recruitment database? Here's how to find out.
4. Using Video to Promote Job Ads
Video is fundamentally changing the face of online marketing and with 50% of internet users looking at videos before investing in a product, it's easy to see why recruitment agencies need to get clued up on video marketing.
By 2019, video will account for 80% of global internet traffic so for recruitment marketers looking to promote both their agency and client job adverts, video is a key growth area to focus on.
Candidates will seek reassurance about both your agency and the jobs you're advertising for clients and video can provide them with insights into both.
Read: 6 stats that prove you need video in your recruitment strategy.
5. Inbound Recruitment Marketing
Sounds like a big one, but inbound recruitment marketing isn't too difficult – it just requires time. Inbound marketing is the practice of creating content to attract a relevant audience to your website and turn that audience into active and engaged data.
In recruitment, that means drawing potential candidates to your website and then turning them into active candidates looking for work via your agency. To do so, you'll need to adopt some inbound marketing best practices.
This includes blogging, SEO keyword research, targeted ads on Facebook and other social media channels. Each one of these marketing practices when done well draws in a consistent audience, building your agency's online presence, resulting in a return of warm and engaged candidates who have your agency on their mind.
So, those are our top 5 recruitment marketing trends you need to embrace. From new channels like Facebook Jobs and Google Hire, to inbound marketing, the future of recruitment is increasingly digital.
And the key to not only embracing these trends but honing them and doing them better than everyone else is to hire an awesome recruitment marketer onto your team!
Download our Recruitment Marketer job description template below to find out what you'd be looking for in the best hire plus the tangible return and benefits you'd get from having a Recruitment Marketer on your team.
Andy Mckendry
Andy Mckendry is a copywriter with an MA in Professional Writing. In the early mornings he is known to gravitate towards the nearest coffee pot.
Subscribe to our blog and receive top content to help you reach, engage and recruit more effectively!