We've all been there before: looking online for work, spending hour upon hour trawling through recruitment websites reading hundreds of job adverts, and getting nowhere fast! You begin to nod off by the time you've read about "An exciting opportunity with a dynamic company" for the twentieth time in an afternoon. Think you might be guilty of writing unappealing adverts? Below I have listed my three top copywriting tips that will make your job adverts more appealing to the right candidates:
1. Structure your advert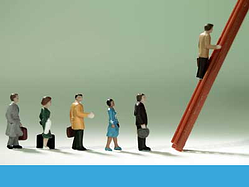 This may seem like an obvious thing to do but many adverts are so unstructured that people quickly glance at them and move on. Make sure the layout of the advert is easy to skim-read: have small paragraphs, use short sentences, sub-headings and bullet points.
Simple things make all the difference too such as using a catchy headline and having a tagline with keywords below the job title. This can also help optimize your advert for search engines. Begin by telling the readers a little about the company, then give a clear description of the job. Include day to day tasks and responsibilities, mention what department they will be working for and who they will be reporting to. Make sure you list all essential criteria, as well as essential qualifications, remember not to make the list too long you don't want readers to lose interest.
End your advert by including clear application details and contact details both phone and email – or even better, a button to apply directly.
2. Sell your client
Even if you can't disclose who your client is, give candidates enough information to decide if this is the right company for them before applying for the job. Give a positive description of the company: tell the reader about their achievements, growth, maybe even include a small testimonial from staff. Tell the potential candidate why they should work for your client: what makes your client unique, what are they offering potential employees?
Also always remember to give the location of the job so the potential candidate knows where they're going to be working. If it's a large city, try to narrow it down to a more specific area to avoid having to sift through candidates who can't make the commute.
3. Know your audience
When it comes to writing great copy, you have to know who is going to be reading. You have to think like the reader before you write your advert: think about what you would want to know about this job if you were applying for it. Use the correct language - for example if the advert is looking for a mechanical engineer use language that is specific to that industry. You want the reader to feel like you are talking directly to them. By using keywords and industry knowledge it will show both your clients and potential candidates that your agency understands the industry and exactly the type of person they are looking for.
Credit: Image
Jenna Niblock
Jenna is a freelance writer and journalist. When she's not at the keyboard Jenna likes to follow politics and current affairs and loves a good debate!
Subscribe to our blog and receive top content to help you reach, engage and recruit more effectively!