Using mass email marketing is a great way to reach out to prospective clients and reach large numbers of applicants quickly. However, some recruiters are making basic mistakes in their marketing emails, which will see candidates immediately hit the delete button! Here are some of the top blunders made and how to avoid them:
1. Poor grammar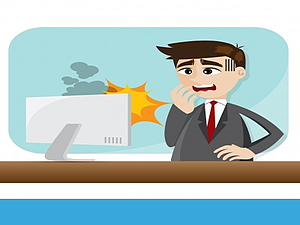 For many recruiting professionals writing may not be your primary skill. However it is vital that any marketing emails you send are proofed thoroughly, as there's nothing worse than a typo to make you look bad! Poor grammar is likely to put off any potential candidates and they will head straight for the delete button. There is nothing worse than spotting a mistake after you've clicked send to 300 people! Also be sure to stay away from lingo and acronyms related to recruiting in your marketing emails. Keep a professional tenor in all email correspondence.
2. No call to actions (CTAs)
Having made the effort to come up with a killer subject line and compelling content, it is an epic fail if you don't have any call to actions in the body of your email. The whole point of marketing emails is to get your readers to take some kind of action. For recruitment marketing emails you want to entice candidates to apply for certain jobs or view all jobs available. It is also important not to have too many call to actions. A single, dedicated call to action is the most powerful way to maximise your conversions. Repeating this call to action is even better.
3. Using email designs that aren't mobile friendly
According to email marketing analytics company Litmus, 43% of emails are now opened on a mobile device. That number is up 138% from 2010 and is likely to continue to grow. This means that you need to create marketing emails that are mobile friendly. Following these steps will help you avoid this blunder:
• Use a single column template will help candidates avoid zooming in or scrolling on their smartphones.
• Use a single, clear call to action and put it near the top of the email. Tell what you want candidates to do and make it easy for them to do so.
• Avoid tiny fonts and make sure your text can be read easily. Use a minimum size of 11pt font for body text and 22pt for headlines.
• Take it easy on images as they often are blocked or display weird on mobile devices.
4. Sending every job to every candidate
Creating email-marketing campaigns is a great way to communicate with candidates. However many recruiters forget about relevance. It is no good sending jobs that candidates either don't have the skills and qualifications to do or are not interested in applying for. They will be more likely to hit the unsubscribe button. Instead, allow your candidates to indicate their job preferences so you can communicate relevant job information to them directly. Doing so will increase your click-through rate and keep your candidates engaged.
5. Not understanding how spam filters think
The last place you want your marketing email to land is a potential candidates spam folder so it is important to understand how spam filters think. Spam filters look at a long list of criteria to decide whether or not email is junk. Avoid going crazy with exclamation points and avoid using all capital letters. Avoid colour fonts such as green or red and make sure you code HTML correctly especially when converting a Microsoft Word file to HTML. Keeping your marketing email simple and clean will help you avoid it becoming spam.
David Coates
David Coates is a recent Sports Journalism graduate from the University of the West of Scotland with a love for writing. He is a freelance journalist/blogger and has produced content for The Scottish Sun, the Daily Record, Glasgow South and Eastwood Extra and GHA Rugby Club. You can connect with him on LinkedIn.
Subscribe to our blog and receive top content to help you reach, engage and recruit more effectively!