Not all businesses have the cash to splash on an extravagant Christmas marketing campaign. After a year like 2020, it's likely your company has had to make some spending cuts - and your marketing budget probably felt the pinch.
But you don't need to go wild spending money on your Christmas marketing strategy to make a good impression with clients and prospects this year. Try these free Christmas marketing ideas and boost your visibility on the market.
1. Decorate your website and social channels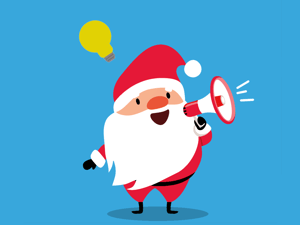 It's unlikely you'll get the chance to decorate the office this year, so treat your website and social media channels like your virtual office by decorating them for Christmas.
Just demonstrating that you know how to respond to different occasions bodes well with clients as it shows you plan ahead. Have a bit of fun Christmas-ifying your website and social headers. For example, change the colour of your logo or background to red and green or add a Santa hat to your logo.
On social, try redesigning your headers using a free design tool like Canva – it's really easy to use and even has pre-sized templates for all social channels.
2. Run a Christmas offer
It's likely your budget for client Christmas gifts has also taken a hit this year, so running a Christmas offer is one way to make it up to them.
Running a Christmas campaign to offer an additional recruitment service free of charge for during the festive period is a great way to use Christmas to encourage interest.
To advertise the offer, you could create a landing page with the details of the offer and drive all interested traffic to that page using your social channels, email, etc. Once the client hits the landing page, have them enter their email address through a form to demonstrate interest and you can then pass on these details to recruiters to follow up.
3. Use festive email signatures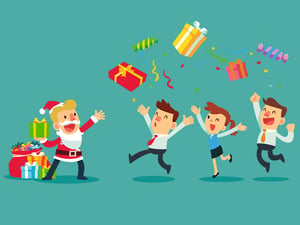 Festive email signatures are a smart alternative to sending Christmas cards to your clients, as they allow you to spread a bit of festive cheer while you email prospects and clients with a purpose.
To create your festive sig, use a free design tool to mock up festive image using your company colours and logo so it's on brand and Christmas ready!
You could also mention your Christmas offer in your signature and make this another source for driving traffic to your landing page – just make the signature image clickable, linking directly to the campaign landing page.
4. Schedule a Christmas email campaign
Research has shown that sending clients Christmas emails with no real purpose or value can do your brand more harm than good.
So, rather than sending an empty, generic 'Merry Christmas!' email out to your clients and prospects (which will also just get lost amongst the other 200 other Christmas emails they receive from your competitors!) think about how you can email them with something of value.
Again, you could mention your Christmas offer as a gift to thank them for their business. Linking to the landing page in your email will push tragic back to your Christmas offer landing page and encourage your clients to sign up to the offer.
State in the email that they can sign up to the offer now, even if they don't have jobs for you yet. In that case, all your recruiters will need to do is leave a note on the CRM stating that they're going to redeem the offer when they next have a job on. Your recruiters will love you for this as it will make their BD calls in January very easy!
If you're looking for more creative ways to keep your recruitment brand on point and on a budget, check out the eBook below to discover the best free marketing tools – Merry Christmas!