Love it or hate it, cold calling is still an essential first step in reaching out to clients and candidates. So if you're picking up the phone to create new business leads at your agency, you might as well do a good job of it!
Here's my best advice to get over the fear of cold calling:
1. Do your research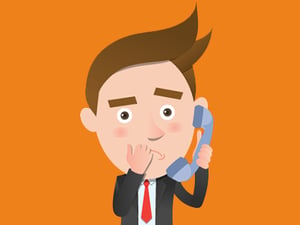 Cold calling gets a bad rep, and this is 99% because of callers haven't done their homework. That's why this is the most important point to consider before making calls.
You cannot underestimate the importance of knowing who you're phoning and what you hope to achieve from the call before picking up the phone.
Think you're going to have trouble pronouncing their name? Google it before you pick up the phone. Don't know who the right person to speak to is? Try looking up the company employees on LinkedIn first. A little research will go a long way in making both you and your prospect more comfortable on the phone.
2. Accept that rejection WILL happen
Probably the biggest initial fear of cold calling is the idea of putting both yourself and your company out there, and being totally rejected.
If you've been in recruitment for longer than a week, it's likely you've already experience a few unpleasantries.
But rather of letting this fear cripple you, just accept it. It isn't personal. Or better still - use it to your advantage!
3. Have a plan
As well as having an opening statement prepared, have a plan for what you're going to cover. A full script might seem wooden, so you can always try a bullet-point list of key points instead.
This enables you to get across the information you need without thinking about it, allowing you to focus on being warm and personable.
However, don't let yourself fall into the trap of reading straight from a script, even if it's your one hundredth cold call and you're tired – the person at the other end of the phone will know what you're doing, and won't be impressed.
Read: How to create the perfect recruitment elevator pitch
4. Be persistent but polite
When cold calling, you will have an objective in mind, whether it be an appointment or a scheduled call to discuss things further.
So move things towards this quickly. If you can't get hold of someone, call back as many times as it takes.
As soon as you do get through, cut to the chase and get the information you need as pleasantly as possible.
Respect is key, especially when dealing with the gatekeepers! Remember that your call has interrupted someone else's day – so thank them for their time regardless of the outcome of the call. If you're polite then you may just plant a seed for that person to remember you in the future.
5. Don't be disheartened by voicemail
Chances are, you're going to reach a lot of your prospects' voicemails.
As frustrating as this can be, a positive voicemail message that covers all the right points can get your call returned, or at least put you in a better position for a follow up call.
Keep it short and sweet to up the odds of the whole message being listened to, and don't forget to repeat your name and number slowly.
Read: How to get a better return on your prospecting voicemails.
6. Update your records
If someone tells you that they are categorically not interested, then mark it in your records or remove them completely if they request it.
Failure to do so could result in a hefty fine if they report you to the ICO - here's the lowdown on making GDPR-compliant prospecting calls.
Otherwise, keep notes on what information you have been given, when you've to phone back between, next steps etc. Arm yourself with the right information, and the the next time you reach out, your cold call will be warm!
Kara Shorthouse
Kara is a Digital Marketer based in Glasgow. In her spare time she loves a good gig, ponies and flattering Snapchat filters.
Subscribe to our blog and receive top content to help you reach, engage and recruit more effectively!