As a recruitment marketer, you already know that images are a key component of a winning marketing strategy for your agency. Images play a crucial part in marketing out your brand online, promoting your featured job ads, and increasing the impact of your recruitment blogs. But, let's face it, not everyone is skilled with Photoshop and other graphic design software. Fortunately, there are plenty of simple to use, free options available online.
To help you create great, professional looking images, we've put together a list of 7 of the best free graphic design tools you can use today…
1. Canva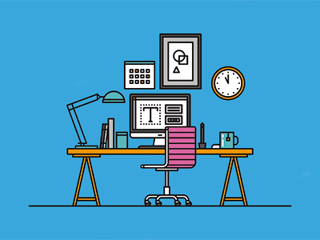 One of the best known free graphic design tools is Canva and it had to make our list purely for ease of use and versatility. Canva is great because you don't need to be a graphic design guru to create beautiful images. If you know you need images to promote your job adverts on social, but you don't have any graphic designers on your team, Canva is the tool for you.
You can use Canva to create images for job ads, sharing on social media, or for your blog. It's well known that candidates love job adverts with images, and by using Canva's library of highly customisable layouts, you'll find it easier to attract more interest in your client's vacancies.
2. Piktochart
Piktochart is an online tool for creating infographics. As a visual representation of data, infographics are 'liked' and shared on social media three times more than any other type of content. As such, infographics are great marketing materials to use on your blog or in news articles promoting your agency. Plus, they're a great resource for amplifying your agency and its brand on social media. After all, everyone loves a list!
The main benefit of Piktochart over simply cobbling something together in Paint is that it's designed solely for creating an infographic. This means easy to use templates, a vast library of icons, and straight forward text editing functionality. Bear in mind that you won't be able to replicate the same level of pizzazz as a graphic designer, but it's worth having Piktochart in your toolbox in a pinch.
3. Pablo
Pablo is a free tool from social media platform Buffer, and as you'd expect, it's beautifully optimised for creating social media images.
With a library of over 600,000 images to choose from, it's a breeze to find a suitable background for an Instagram quote, or for advertising your job on Twitter and Pinterest. Simply pick the platform you'll be using, and the canvas will change to the optimal size. Pablo also has five pre-set templates for different occasions, such as social outreach or an announcement. This can save marketing headaches trying to decide on the best layout to maximise the return on your social messages.
The key feature that makes Pablo such a star however is the Share & Download button. This allows you to post your image directly to Twitter, Instagram, Facebook, Pinterest or, if you're a Buffer user, add it directly to your scheduled posts.
4. Pixlr
If you love Instagram filters and regularly bemoan the fact you can't use them on desktop, Pixlr is about to be your new best friend. Photos of your colleagues and snaps of your office setting can really help to boost your brand on social media, but let's face it, the lighting is never going to be quite right, the angle can be wrong, or it just plain old needs some jazzing up. Using Pixlr, you can filter, crop, rotate and add effects to your photos before saving them for posting.
5. Snappa
Snappa is much more focused on creating and editing graphics, rather than photos. If you mainly want to edit photos you've taken, then try Pixlr. But Snappa's focus on graphic design means a whole host of features that you don't see on tools that try to offer both image editing and graphics production. The sheer number of image templates means that, for recruitment marketers, Snappa is possibly the best all-in-one solution, however the free version is limited to five shares per month.
6. Placeit
If you've ever spent time trying to cram an image of your website or job advert into a stock photo, Placeit is the tool for you. Placeit will automatically insert an image of your choice into a vast array of stock photo templates, such as laptops in an office, a mobile phone or even a tablet computer screen. Placeit limits free downloads to small images, but this is the perfect size for social media or including in a blog post. This opens the door to a myriad of creative ways to show off your job adverts, or get clicks through to your blog posts.
7. UnSplash
You've already learned how to write recruitment copy like a pro, but do you have the time to create bespoke images to illustrate every blog you post? Enter UnSplash. Unsplash is a library of thousands of high-resolution photographs, completely free for you to use. With Unsplash in your bookmarks, your blogs will instantly become much more clickable. Pair up Unsplash with any of the graphic design tools listed above and you'll be well on your way to creating professional-looking images that turn the right heads.
8. BeFunky
For your all-around photo editing needs, BeFunky is an excellent choice.
It comes with all those great standard features that you could need to enhance your visuals, such as a background remover, cropping, resizing, and colour replacement.
But it also has plenty of other cool and useful features, including a one-click AI image enhancer, a Collage Wizard, and stickers and graphics. You can also use tools to transform photos into cartoons, oil paintings, and sketches. Best of all, BeFunky offers more photo editing tools for free than other photo editors and can be used straight from your phone - so posting on your social media pages becomes quicker and easier than ever.
So, there you have it, 7 of the best free graphic design tools worth using for recruitment marketing. All are free, easy to use, and designed to take your recruitment marketing from using MS Paint to producing imagery worth framing.
If you're looking for more of the best recruitment-marketing tool, the eBook below covers everything from writing tools to social media.
Christine Stark
Christine is a Digital Marketer with experience managing communications across a variety of sectors. She loves caffeine, cosy jumpers and cocktails.
Subscribe to our blog and receive top content to help you reach, engage and recruit more effectively!