Christmas is the perfect time to work on building your social media followers. At this time of year, we all have a bit of Christmas downtime to play with, and everyone's looking for something to engage them online – so take advantage of this!
Here's a few different ways you can use the festive period to tot up likes, shares and followers for your social media accounts.
1. Run Christmas competitions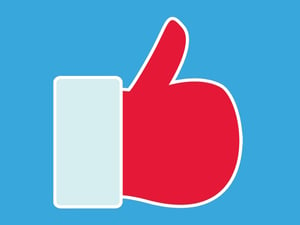 Competitions are a brilliant way to grow your following as people go wild on social when there are prizes involved.
There are loads of different ways to do social competitions (this list has some good ideas!) but normally they involve commenting an answer, sharing an image or following your page. All aspects will count towards growing your brand.
Beware there are rules to follow when running social competitions, but they're still a great way to gain followers, grow your brand and have some fun with your network over the festive period.
2. Send quirky gifts
If you send branded gifts to your clients and they're unusual enough to stand out, they will end up on social media – so the more original, the better. There are a few no-nos to stay clear of when sending gifts to clients, here's a list of what they are!
There are so many different suppliers and options for branded goods out there so finding something that aligns with your brand and is relevant to your audience is important.
Our famous Firefish sweets always go down a treat 😉
Be cautious that Christmas can give you the urge to splurge so make sure you have a budget and stick to it!
3. Show off festive fun in the office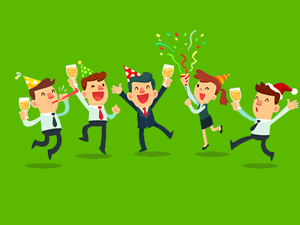 It's likely you'll be getting involved in some organised fun in the office over the Christmas period and this is a great opportunity to humanise your brand on social media.
What does your office have planned in the run up to Christmas? This stuff is also brilliant for employer branding and will follow you if they want to keep you on their radar.
Followers love businesses who show 'behind the scenes' footage of the people behind the brand as this shows authenticity. Instagram is a great platform to do this as it's more visually engaging and the 'stories' feature is great for showing quick insights into your brand.
Here's a guide to using Instagram for your recruitment brand and a list of the best recruitment agencies using Instagram.
4. Post to encourage interaction
Social media posts that encourage interaction from followers work well over the festive period as your network are more likely to have some extra time on their hands to take part.
For example, you could post polls, question asks (this is a feature on Instagram and you can repost all the answers to your question asks in your Instagram stories – more on this here) and other interactive content. You can add polls to any the main social platforms and if it's fun and interesting enough to get people thinking and interacting, they will remember your brand.
5. Use Christmas down time intelligently
The hardest thing about social selling and building your personal brand on social media is that it takes time – something we all know is pretty scarce in recruitment!
So use the quieter period leading up to Christmas to work on building your brand by proactively engaging in discussions and offering value across social.
If you're in charge of business social media accounts, the quieter lead up to the festive period is great for creating a back log of good content to share so you're prepared for the busy spell in the new year.
If you're also looking to really grow your accounts, this would also be the perfect time to do a social media audit and plan for the new year.
If you're already planning your social media strategy for 2020, our eBook has everything you need to know to get your social ready for the new year.
Amy McLaughlin
As Senior Digital Marketer at Firefish, Amy keeps our Firefish customers up to date with the latest news from the Aquarium.
Subscribe to our blog and receive top content to help you reach, engage and recruit more effectively!