As Digital Marketer here at Firefish, I spend a lot of my time researching recruitment businesses on Google, looking at their websites and searching for postal addresses to send our famous fish sweets out to!
But one thing that's really struck me in the last few months is how many recruitment businesses I can't find online because they aren't listed on Google My Business.
Having no presence on Google's business search feature looks suspect to candidates (and clients too!) and could even put them off applying for your jobs. So, how do you use the feature to attract candidates?
What is Google My Business?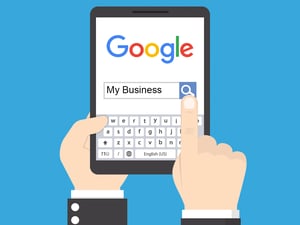 First of all, let's clarify what Google My Business (or GMB for short) actually is. In short, it's a free service that allows businesses to list themselves clearly on Google and Google Maps too.
When you list your business on GMB, your company website, location, services, contact information and customer reviews will appear clearly in the search results of relevant local searches or a direct search of your company name.
You probably come across GMB every day without realising. Here's what it looks like: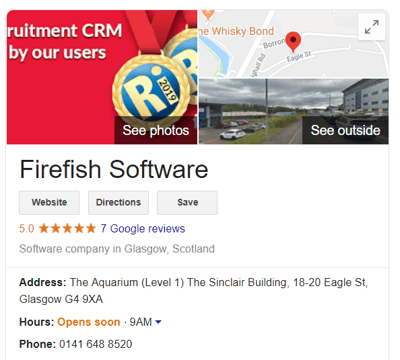 In order to appear in searches for recruitment agencies in your area (like the above screenshot), you need to have submitted a GMB listing. If you're not listed yet, just think about all those lost opportunities where you could have been pulling active candidates to your website instead of your competitor's who are already GMB listed!
The dangers of not having a Google My Business listing
If you're not listed on Google my Business, candidates and clients won't be able to find you! You'
If you're making a big purchase online or booking a table at a restaurant you've never been to before, it's likely you'll search for the business online before you make any commitments. And if you can't find the business officially listed on Google, would you still move forward with them or write them off as a bit untrustworthy?
Candidates are no different. Not having a Google listing is a sure-fire way to turn candidates off because they'll assume your agency isn't a legitimate business (or at least not as professional as other agencies on the market).
Think of it this way: if you were approached by two agencies for a job and one business was listed clearly on Google and the other one wasn't – which would you trust to manage your career?
And if that's not enough to convince you, clients and prospects feel exactly the same way. Research has shown that b2b customers (aka clients and prospects) won't accept sales pitches these days from businesses if they don't already know who they are. In fact, around 89% of prospects will perform at least twelve different searches on a brand before they engage with them. So in a nutshell, prospects won't even give you a chance if they can't find you on Google!
5 advantages for recruitment businesses who are listed
There are tonnes of benefits to using Google My Business, but there are also some 'benefits' that, we're sure you'll agree, are actually quite essential to running a recruitment agency and ensuring it's visible to candidates.
Here's what they are…
Your agency will look more credible to candidates - Candidates will trust your brand if they can find it on Google because it confirms it's legitimate and implies it's a professional business.
Candidates can easily find your office – Most candidates will use Google Maps to find your office, so it's a no-brainer that you want your business listed on the Maps app.
It's great for SEO - Claiming your listing on GMB is just as important as SEO-optimising your website. Because GMB lets your agency appear in local searches, you'll rank higher in the search engine results of candidates in your area.
Candidates will come to you first - If your agency is really visible online, more candidates will be aware of the brand and this will increase the chances of them coming straight to you when they're looking for a job.
You'll get more reviews from your candidates - Google encourages candidates who visit your agency to leave reviews, and reviews are one of the best ways to convert candidates into applicants!
How to get listed on Google My Business
Now you know why your agency needs Google My Business, I bet you can't wait to get started. But before you start creating your listing you need to have a Gmail account. If the company doesn't have one, setting up a free business Gmail should be your first step (using an existing personal email for this is not a good idea).
Once you have a Gmail account, you're ready to go. So, here are a few easy steps to get your business listed:
Open Google My Business and click 'start now' in the top right of the screen.
Sign in to your Google account and enter the name of your business before clicking 'next'.
Choose whether you want your location to be visible on Google Maps, before entering your business address.
List your business 'type'. There are a few options for agencies (most agencies go for 'Recruiter') but take a look and decide which fits your business best.
Enter business contact details (phone number, website) that you want people to use. You will also be able to add links to social media platforms at this stage too.
Finish and verify your listing.
Your listing is now complete! You can update it whenever necessary and GMB releases new features regularly, so watch out for those as well. But otherwise, let Google work its magic and attract more candidates to your business.
You'll be able to keep track of the impact your GMB listing has on your website traffic using Google Analytics. The eBook below will show you how to do that:
Amy McLaughlin
As Senior Digital Marketer at Firefish, Amy keeps our Firefish customers up to date with the latest news from the Aquarium.
Subscribe to our blog and receive top content to help you reach, engage and recruit more effectively!