Referrals are a great way to build strong networks of trust between you, your clients, prospects and candidates as they create a situation where the 'good guys' are all vouching for one another.
There's really nothing better than having someone you've worked with personally recommend you for your great services, but the million dollar question is… what can you do to get more referrals?
Why are referrals so effective in recruitment?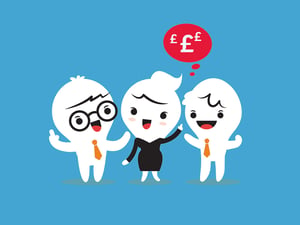 There are so many benefits to getting referrals from clients and candidates, but the main point it all boils down to is that it makes your job as a recruiter a whole lot easier!
For one thing, candidate referrals are the quickest and easiest way to increase your reach to qualified candidates. A candidate is more likely to be qualified if they're referred by someone who knows them personally, and they'll also be way more receptive to you getting in touch if there's an existing connection there.
Having referred candidates in your shortlists looks really good to clients too as this is solid proof that your candidates love working with you!
And if that's not enough to convince you, referrals also decrease time-to-hire and can do wonders for your reputation, meaning you have less steps to go through to make a great placement, and less work to do to sell yourself and your services to the right people.
Let's just think about the steps involved in the hiring process for a job taken on with a client via a referral versus a job on as the result of a cold calling strategy.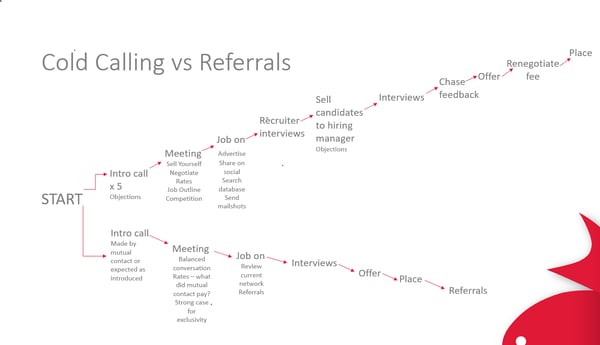 As you can see, the steps involved in a referral are fewer and much more straight-forward, meaning you'll get to that placement in less time if you make referrals a big part of your sales strategy.

But how do you do this?
How to get more referrals
1. Decide who you want referrals from
You might be thinking any referrals are gold dust, but there's no point in getting referrals for jobs you're not qualified to fill!
You want to be getting referrals from people within your recruitment niche who you know you have the expertise to help. If you think strategically about referrals, you'll get a lot more out of it and know exactly who to ask.
So, make a 'wish list' of what your ideal referral candidates and clients would look like and think strategically about how you could reach them. Who do you have in common on social media?
2. Refer to be referred
There's no better way to get the referral ball rolling than in referring candidates and clients to your own colleagues and other those who recruit outside of your niche.
If you recommend other recruiters to solve challenges that you know they're an excellent fit for, the good karma will come back to you. Show that you prioritise great recruitment and right-fit placements over your own personal gain and you'll see the favour returned.
3. Mention your referee in the email subject line
33% of recipients open an email based on a subject line alone. If you send an email to a candidate or prospect and name drop a trusted referee in the subject line, you'll substantially increase the chances of it grabbing their attention enough for them to open your message.
And in recruitment, that's half the battle!
4. Ask for an intro over a referral
Smart recruiters spend time sourcing within their candidate's networks. If you find a candidate within your existing candidate's network who you want to speak with, skip the referral and ask them straight up for an intro. Your existing candidate will find that difficult to refuse and the prospective candidate will (or should!) be flattered that you've asked for them.
5. Always be working towards referrals
Plant seeds every day: drop hints about referrals into your daily communication. You could even include a sentence in your email signature saying something along the lines of…
'If you know someone who you think could benefit from having a chat about opportunities in [niche sector], please pass on my contact details'.
6. Leverage every success
Every placement you make as an opportunity for new business and it's important never to forget this!
Just think about it: each time you make a successful placement, you're in the good books with both client and candidate – make sure you use this opportunity!
7. Become a RWK (recruiter worth knowing)
If you can make it clear to your network that you're someone in the know within your niche, the candidates, clients (and referrals of course!) will come to you.
So, do what you can to show your network that you know all the right people, are objective with your pursuits and that you genuinely care about being the best recruiter you can be. Essentially, become a recruiter worth knowing and the jobs will come to you.
Download the eBook below for more tips on how to become a lean, mean recruiting machine!
Joanne Causer
Joanne is a Senior Growth Specialist at Firefish. She loves bringing on board new recruiters who are looking to recruit smarter.
Subscribe to our blog and receive top content to help you reach, engage and recruit more effectively!