The rising cost of job boards has become one of the most talked-about topics in recruitment this year with the increase in prices affecting agencies and recruiters worldwide. Big players in the job board industry have increased (rumoured to be by as high as 300%), forcing recruiters to reassess and refine the way they rely on these platforms.
The good news is that there are ways to upgrade your job board ads to ensure they sit at the top of every job board search and pull in applicants. Before we dive in, first let's look at exactly why job board costs have increased…
Why are job board costs rising?
The candidate shortage – As recruiters, we're familiar with the pattern of supplying something that's in demand – it's the essence of what we do! Since the market hit a record number of unique job vacancies last year, job boards continue to supply a highly in-demand service.
Job searches have changed and job boards are adapting – Since COVID-19 swept the world, the industry has changed drastically, the influence of which has been felt in every part of the recruitment process! This is especially true when it comes to how candidates now look for roles through search engines and job boards. This has had a big influence on the recent price changes, with some job boards even switching business models to suit the market.
The cost of running job boards has increased– In April 2022, we welcomed CV-Library's Head of Partner Success, James Boshier to the Firefish Crowdcast. James gave us interesting insights into how job boards operate and why their operational costs have increased too. For more on this, watch the full Crowdcast episode below:
While the above points won't put money back in your pocket, hopefully they've given you a better perspective on exactly why job board costs increased this year. This leads us nicely onto the next section on how to improve your ads to ensure every penny you spend is attracting candidates to your roles.
What you can do about it
The cost of everything is rising: It's the reality we live in right now. While the cost of job board prices isn't something we can necessarily control, we can control the way we use these services to our advantage. Here are 4 actionable tips that will help push your ads to the first page of candidates' searches (and ultimately bring your more applicants for your money!).
Tip 1. Choose the right job title
No matter how good of a job description you write, if you don't have the correct title for candidates to search nobody will ever see your ad! This makes your job title the single most important part of every job board ad you write. The bottom line is that if your job title is full of jargon or ultra niche it simple won't get searched by candidates very often (and could confuse the algorithm).
For example, a flashy marketing title such as 'Online Brand Influencer' might sound good to some clients, but how often do candidates really search for this role - it's probably single or double figures at best! In comparison, the same job listing with the clear-cut title such as 'Social Media Manager' will get thousands of hits each week.
Always lead with the mainstream stripped back option but remember you can't mislead a candidate, so make sure your title truly encapsulates the role. When ads and applications are this expensive, the last thing you need is to waste money attracting the wrong candidates!
Not sure where to start? Research your title using tools such as Google Trends to compare titles and determine which is the most popular right now: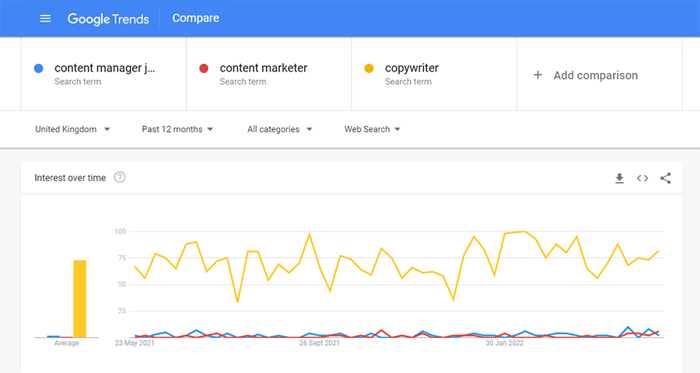 Tip 2. Don't cram your title!
Once you've chosen the best title for your job ad, you might be tempted to cram the rest of the title field with other information about the role: Marketing Assistant, G4 £23k + bonus – sound familiar?
We're all guilty of using this space like a mini advert. But if you want your advert to rank highly on job boards specifically, you need to stick to title and only the title! This helps any job board's algorithm (and your candidates) know exactly which type of role you're advertising.
Tip 3: Optimise your ads with 7 keywords per 200 words
The word 'optimisation' makes some recruiters want to run a mile, but just like website SEO, improving the on-page optimisation of your job board ads is easier than you'd think!
To help the job board algorithm determine the relevance of your job ads, you need to include relevant keywords into your ad copy. For example, when posting a part-time remote sales role, you might use the following keywords: part-time, sales forecasting, commission, reporting, account management, outreach and remote.
To get your ad to rank high, avoid keyword stuffing and instead stick to James Boshier's top tip: "usea maximum of 7 keywords for every 200 words you post". The trick is to weave the keywords into your job description naturally whilst hitting 7 keywords in every 200 to strike the perfect algorithm-pleasing balance.
Tip 4: Utilise your CRM and integrations properly
A great CRM like Firefish seamlessly integrates with multiple job boards. To make the most of this functionality, and see the best ROI, all you have to do is use the technology correctly! Whenever you create an add stick to the script: DON'T put the wrong data into the wrong structured field, DO exactly what your CRM tells you to do!
For example, stick your title (without perks or benefits) in the title field, include the salary in the salary field and so on. The more accurate your form fields are, the easier it is for job boards to understand your ad and share it to the most-suitable candidates – it's as simple as that!
For more tips on how to make the most of the market right now, download the eBook below.
Becki Crossley
Becki is the Senior Content Marketer here at Firefish! She heads up our award-winning recruitment blog.
Subscribe to our blog and receive top content to help you reach, engage and recruit more effectively!