After the year we've all had, ghosts or ghouls will have a hard time giving us a fright this Halloween.
So, we're here to give you your horror fix with some spooky recruitment stats that'll have you running for cover.
Here are seven stats to get you in the Halloween mood….
1. Job ad engagement is dead on the weekend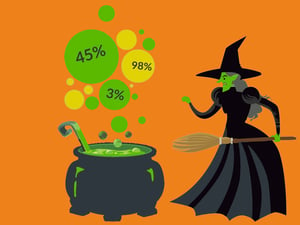 Very few candidates search for jobs on Saturday and Sundays anymore: only 20% of job ad views occur on the weekend. Job ad views are highest during the working week, especially on Mondays and Thursdays.
What this means for your recruitment strategy:
The old tactic of posting jobs on Friday nights so candidates can apply over the weekend doesn't work anymore. You'll have more success posting your jobs on a Monday morning when candidates are actually looking.
2. 72% of candidates share application horror stories online
A recent survey revealed that 72% of candidates say they've shared a bad experience on an online employer review site like Glassdoor. This proves that a bad candidate experience isn't just hellish for applicants, but for your recruitment brand too!
What this means for your recruitment strategy:
In this candidate-heavy market, it can be hard to juggle all the candidates coming back into your inbox.
Sticking to a few simple rules can ensure you don't get flagged as a recruitment horror story:
Don't ghost unsuccessful candidates – give every applicant a response

Manage candidate expectations throughout the process

Tell unsuccessful interviewees why they didn't get the job – candidates always appreciate constructive feedback.
Simple tactics like this will ensure you never get a nasty surprise from an unhappy candidate.
3. Bad reviews will kill your employer brand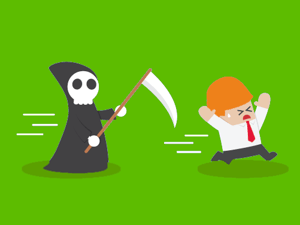 A survey of over 400 jobseekers found that 55% of respondents have abandoned a job application after reading a bad review about that employer.
So if your brand is haunted by bad reviews, you'll be missing out on the best candidates who can afford to shop around.

What this means for your recruitment strategy:
Online reviews are extremely powerful – 85% of consumers trust online reviews as much as they do a personal recommendation.
Make the most of the positive reviews you have from candidates you've worked with and to make a positive impact on your employer brand. That way, potential applicants will know that working with you is a treat, not a trick!
4. 2020 has been scarier for big recruitment agencies
A recent Firefish survey found that recruitment agencies with more than six employees were 6% more pessimistic about the future of the recruitment industry than smaller agencies. Larger agencies were also less likely to forecast sales growth in 2021.
What this means for your recruitment strategy:
To survive in this monstrous market, you need to think like a small agency, be agile and adjust your strategy to meet the changing needs of your clients so you stay relevant.
5. Half of recruiters are trapped in the contingency model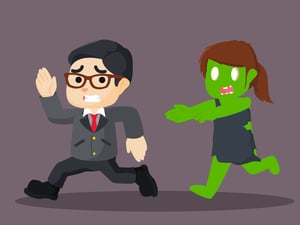 54% of agencies are still relying on contingency recruitment as their primary business model. Only 17% of agencies are focussing on retained business!

What this means for your recruitment strategy:
Like a spirit trapped in a haunted house, the recruitment industry can't seem to escape contingency recruitment.
The recruitment market is about to get even more competitive, so you need to offer something different to contingency to stay on top. Explore different recruitment business models and services to vanquish the contingency spectre that continues to haunt recruitment.
Read this eBook to update your strategy and start selling retainers before it's too late!
6. 98% of your cold calls are doomed to fail
Studies have shown that less than 2% of cold calls result in a meeting and only 1% result in a sale. We calculated that it would take you around 5,000 cold calls just to make a single placement!
What this means for your recruitment strategy:
Only a recruitment masochist would continue cold calling with these odds. You need to perform an exorcism on the cold calls that are possessing your recruitment strategy and adopt a warm calling strategy that's actually proven to win businesses.
There's no denying that Covid-19 has been the scariest thing to hit the recruitment industry in years. Read our full data report to learn the full impact of Covid-19 on recruitment: