As we shift from a candidate-short to a job-short market, the recruitment KPIs that will have a real impact on your agency are changing.
By refocusing your recruiters' KPIs to suit this new market, you'll be motivating them towards goals that actually matter to your business instead of targeting them on meaningless targets like number of cold calls and candidate application numbers.
Keeping track of the right metrics ensures you're in control of the elements of your business that directly impact profit margins. And in a volatile market like this, the more control you have, the better.
Here are some recruitment KPIs your team should be focussing on right now, why they're important and how to calculate them.
1. Quality of candidates per application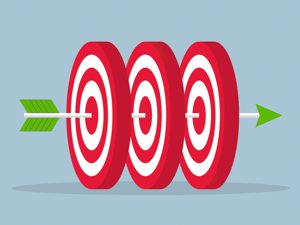 When there's a candidate shortage, targeting your recruiters on application numbers makes sense, but not in the market we're seeing right now.

Redundancies have soared in recent months, meaning there are a lot more candidates actively hunting for a job. Therefore, the real challenge to be focusing on here is how many quality, right-fit candidate applications your recruiters receive for every application that's submitted.



This will give you an indication of whether your job ads are doing a good enough job at disqualifying candidates who aren't right for the role. There's a real art to creating job ads for a job short market – here's how to do it.

How to calculate this KPI: Divide the number of applicants by the number of candidates the recruiter would confidently send to the client. This KPI is best presented as a percentage.

(Number of quality candidates / Total number of applicants) *100 = % quality candidates
2. Candidate source quality
This metric is about encouraging your recruiters to pay attention to the sources that are bringing in candidates that actually turn to placements. This way, your team will think more strategically about where to focus their time and advertising budget.

In a job-short market, it's about focusing on the channels that give you candidates that become hires, not which sources bring you the most applications. So even if you get a large share of your applications through from job boards, for example – how many of these applications are you shortlisting and seeing progress to placement?

With Covid-19 hitting your revenue, it's likely you've cut your marketing budget for advertising new roles, so you need a KPI like this to encourage your recruiters to be much more strategic about spending.


How to calculate this KPI: This KPI is best represented as a ratio of number of applicants to number of hires, as below.

Number of applicants per channel: Number of hires per channel = Source effectiveness ratio

3. Client retention rate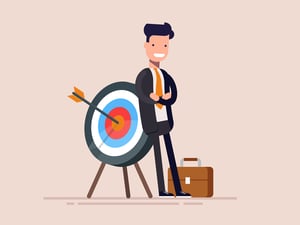 In a job-short market, retaining clients - and winning business from existing clients - is a big priority. But are any of your recruiters' existing targets focussed on account management, or do these focus solely on new business?

Strong client retention rates are essential in a job-lead market. They're also great for your agency's reputation as good repeat business is always a sign of good service. Targeting your recruiters on keeping clients coming back time and again is incredibly good for business as it discourages your recruiters from using any of the quick-win tactics that give recruitment a bad name.

How to calculate this KPI: To calculate this KPI, subtract the total number of clients at the end of the month from the number of new clients at the end of that month. Then, divide that number by the total number of clients at the end of that month and multiply by 100 to get your retention rate.

(Number of clients at end of period – New clients acquired in that period) / Number of clients at the end of that period *100 = % Retention


To ensure that these KPIs become fully integrated at your agency, the usual advice stands: explain them coherently to your recruiters and have them report their KPIs back to you regularly to encourage accountability within your team.

And just as your KPIs need refocused for this new market, it's likely your commission scheme will need redesigned too. Use our commission scheme calculator to get started.
Katie Paterson
Katie once headed up the Firefish blog and marketing team. She now works as a freelance copywriter and continues to contribute to our award-winning blog.
Subscribe to our blog and receive top content to help you reach, engage and recruit more effectively!