Commission schemes might be low on your priority list right now, but remember your business depends on your recruiters staying motivated to continue generating revenue for your agency.
Whether you've paused or continued offering commission to your recruiters during lockdown, so much has changed on the job market since the Covid-19 outbreak that you will need to rethink your commission scheme in order to adapt to the current climate.
A new and refreshed commission scheme will incentivise your recruiters to keep doing the job they're so good at (in whatever capacity they're able to do right now) and keep your business afloat.
Here are a few things to think about when redesigning your recruiter commission scheme after Covid-19.
Think about what's important to your business right now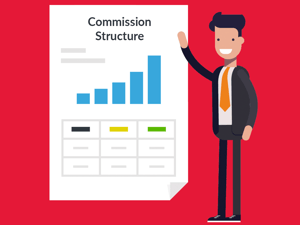 The most successful agencies are those who strongly align their commission scheme with their larger business goals, and it's likely your goals have changed since the Covid-19 outbreak as the needs of the job market have changed.
For example, as the need for temp and contract recruitment increases, will this be your agency's new focus? Or, will you be making a switch from contingency-focussed recruitment to incentivising retained contracts with clients? And as we move into a job-led market, will your agency be focussing on retaining existing clients or developing accounts with new prospects?
Whatever you think is most important or lucrative for your business right now, just think about how your commission scheme could incentivise the business you want. This will ensure that the KPIs you set will have a direct impact on your business goals.
Map out your costs
Whether your costs have increased or decreased since Covid-19, it's almost certain they will have changed as your processes adapt to this new recruiting environment.
For example, you might be saving on your Sales budget since moving your sales process online, but it's likely your marketing costs have gone up as every business scrabbles to get noticed online.
There will be a bit of re-balancing to do, so map out what your costs look like now in comparison to before so you take this into consideration when you're deciding what your commission scheme will look like.
Tailor your commission scheme to your new way of working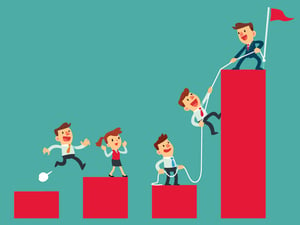 As we continue to adapt to the 'new normal', our ways of working are constantly changing. Therefore, it makes sense for you to tailor your commission scheme so it complements how your business is operating right now and be open to the idea that it's likely to continue to evolve.
For example, if you're in the process of growing a new area, division or niche, it's likely your recruiters will need to work hard to achieve very few initial placements. How can you rethink your commission structure to keep your recruiters motivated in this kind of working environment?
In situations like this, would it be a better incentive to split commission so it's less focussed on placements and more on rewarding business development activities? Or offer an additional quarterly personal development bonus to compensate for a reduced monthly commission?
The important thing is to keep your team motivated, otherwise no goals will be achieved.
Consider less traditional options
Flexibility and adaptability will be key for business survival moving forward, and as a recruitment agency owner, a big part of this could be looking at left field commissions structures that you probably wouldn't have considered before the pandemic.
For example, could you offer additional work flexibility to your recruiters (maybe working fewer days in the week or choosing to work from home permanently to save on the costs of commuting) in exchange for a lower commission? Or a lower salary in exchange for a higher commission? These sorts of decisions could have a huge impact on your business.
Considering non-traditional ways of operating will make your business more adaptable and futureproof. All the signs are saying that the workplace will be more flexible post-Covid, so thinking about how you could update your commission structure to compliment your agency's 'new normal' now will put you a step ahead of the competition.
The commission calculator below is a great tool to get you started with rethinking your costs and designing your commission structure.
Katie Paterson
Katie once headed up the Firefish blog and marketing team. She now works as a freelance copywriter and continues to contribute to our award-winning blog.
Subscribe to our blog and receive top content to help you reach, engage and recruit more effectively!