Since the Covid-19 outbreak, we've been busy creating blogs, video content and hosting Crowdcasts to help you navigate this completely new recruitment landscape.
To make things even easier, we've pulled together the highlights of our Covid-19 content onto this page to create a one-stop Recruiting in Covid-19 toolkit!
So read the blogs, watch the videos and use our content as guidance to support you with the biggest challenges you're experiencing in this new market.
Let's dive in...
Blogs to help you recruit in Covid-19
Since the pandemic, our recruitment blog has been a busy space! To make things clearer, we've separated the content into headers based on who the blog has been written for.

But whether you're an agency or in-house recruiter, a business owner or a marketer, there's blogs in there for you!
Blogs for everyone
Blogs for recruiters
Blogs for recruitment agency owners & managers
Blogs for recruitment marketers
Recruitment Crowdcasts that'll get you through the crisis
We recognised a need for more video content to support you through this crisis, so we decided to increase our Crowdcast to twice monthly.
Here's some highlights of the most valuable Covid-related recruitment Crowdcasts.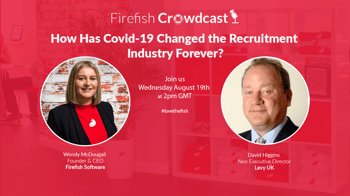 eBooks and data insights about recruiting in Covid-19
We know how important re-strategising is right now, and how much you need current data to influence you're decisions.
So, here are some eBooks and data reports we've created in recent months.
And in case you missed it, here's a link to our Recruitment CEO Diaries 8 weeks of video content that will help you become leaner and stronger during Covid-19.

Our statistical impact report gives you 2020 data on how Covid-19 has impacted the Recruitment industry. Download it below:
Katie Paterson
Katie once headed up the Firefish blog and marketing team. She now works as a freelance copywriter and continues to contribute to our award-winning blog.
Subscribe to our blog and receive top content to help you reach, engage and recruit more effectively!