Back in 2014, a panel of experts predicted that by 2020 50% of the workforce would be remote working. At the time, hitting that figure in the recruitment industry seemed pretty unlikely, but now it looks like working from home will become an industry norm in the coming weeks.
So what's been stopping us from implementing remote working in recruitment until now? And what can we do to ensure it works for our teams?
What's stopped us offering home working in recruitment?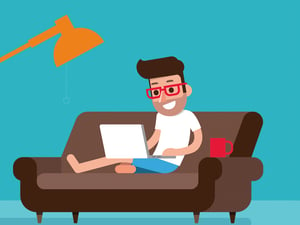 For years, we've all been flagging the same challenges when the topic of remote working arises…
How do you keep recruiters motivated without office buzz?
How do you ensure recruiters keep communicating with each other?
How do you keep your recruiters productive when you're not there?
But are these really a barrier to rolling out remote working in today's market?
While they may have been a difficult to overcome a few years ago, we've come a long way in terms of technology and none of these 'challenges' are really challenges anymore. If you put the right tech and processes in place, you can easily keep your recruiters communicating (with you and one another) so they stay motivated and productive no matter where they're recruiting from.
3 reasons remote working works in recruitment
In reality, recruitment is an industry that can easily adapt to home working. Here are three reasons why rolling out home working is easier to for recruitment agencies than businesses operating in other industries…
1. Recruiters only need a computer and a phone to do their job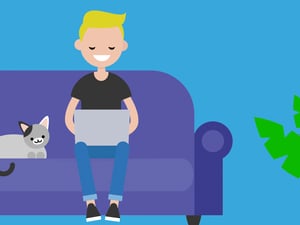 There used to be a joke amongst top billers that all you needed to make placements was a copy of the Yellow Pages and a phone in your hand. Well today, you just replace the phonebook with a computer and it's the same story!
Essentially all of our candidate sourcing and BD lead generation is done online today, whether that's on LinkedIn, Google or job boards. And if you're using a cloud-based CRM, your recruiters can do their jobs from anywhere.
A lot of other professions don't have the luxury of being so flexible in terms of location, so we should really count ourselves lucky and not be afraid to put remote working into practice.
2. You can easily track recruiter productivity online
If you're using the right recruitment software, tracking your team's daily productivity and KPIs will be easy, as you should be able to see all of recruitment activities at a glance.
Ultimately, recruitment is a sales job, so if one of your recruiters isn't billing when they're home working, you will know about it. This actually makes recruitment one of the best industries to introduce home working: you only need to look at your recruiters' sales figures to measure their productivity and success working from home, and there are few industries where it's that easy to measure productivity and outcomes.
If you're worried about the potential drop in productivity when your recruiters switch to WFH, remember this: Evidence suggests that WFH actually increases productivity. One study found that overall, employee productivity increased by 13% in businesses that introduced home working!
3. You can retain your best recruiters
Studies have shown that employees take fewer sick days and stay longer (50% longer on average) at companies that offer home working opportunities.
In recruitment, your top billers can make up a significant part of your annual turnover, so offering your top guys a benefit that can lead to them staying longer at your agency will result in more billings for your agency.
Offering WFH long term will also tempt other top billers to ditch your competition and join your agency, helping you pull in the best recruitment talent in your market to your company.
How to roll out home working in recruitment
We know that remote working can work in recruitment because it's already working for plenty of successful recruitment teams today. Here's some steps you can begin taking to roll out home working at your agency…
Invest in the right technology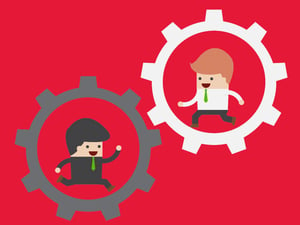 Having the right technology is crucial to remote working, as it allows your recruiters to keep operating from home without any disruption to their day. You'll need a cloud-based CRM so your recruiters can recruit from anywhere.
There are loads of software options to keep your team communicating with each other, and a lot of them are free to use. Video is one of the best tools to keep your agency running smoothly when your recruiters are working from home. Your team can interview candidates, hold client meetings and attend team meetings quickly and easily with the right video technology.
We've included a list of WFH tools in the next section of this blog that includes a number of free video options to get you started.
Set home-working policies
To make home working successful at your agency, you need to ensure all your recruiters are working to the same book and understand what's expected from them when they're home-based.
To get everyone on the same page, create polices that clearly state what home working means at your agency.
These are some of the queries your WFH policies should cover:
Do your recruiters have to follow core working hours when working from home?
How should your recruiters report overtime and lunch hours?
How much notice should your recruiters give management when choosing to work from home?
The exact policies you set will depend on your agency and the day-to-day responsibilities of your recruiters, so set ones that you think will work for your agency. And if those policies don't work, don't be afraid to change them down the line.
Set regular online meetings
To keep everyone at your agency up to date and working as a team, ensure that your home-working recruiters can dial into every in-office (and remote) meeting.
Consider setting up a daily team meeting that they can dial into. This will set a morning routine for your recruiters and give everyone the opportunity to pass on information that might involve each other.
Here at Firefish, our teams gather each morning for a 15 minute stand-up meeting and our remote team members dial in via Zoom too (see tools below). Here, we run through what we did the day before, what we have planned for the day ahead and give everyone the chance to check in if they have any questions or challenges to flag before the day starts. It's a great way to start the day and is really effective at motivating your team whether they're at home or in the office.
5 tools that support remote-working recruiters
Aside from the basic software your recruiters need (like a cloud-based CRM and a smartphone), there are other tools you can use to make rolling out home working easier.
Here's some tech that will make home-working easy to implement for your recruiters:
Technology is key to remote working, so your recruiters need to be confident with tech at your firm if they're going to make working from home a success. This eBook will show you how to engage your recruiters with the new technology they'll need to be a remote worker.
Sophie Cunningham
Sophie is a Content Marketer here at Firefish! After working as a 360 Recruiter she found her perfect niche here at Firefish writing about recruitment.
Subscribe to our blog and receive top content to help you reach, engage and recruit more effectively!