Running your own business is never going to be a walk in the park, no matter what market you're in. But there are some real undeniable perks about running your own recruitment agency that are worth keeping front of mind if this is a route you've decided to take.
Remind yourself of all the great things that come with being an agency owner (essentially, the reason why you chose to do this in the first place!), and you'll look forward to getting to your desk every day.
So, what are these great things about being an agency owner?
1. You're billing for yourself, not someone else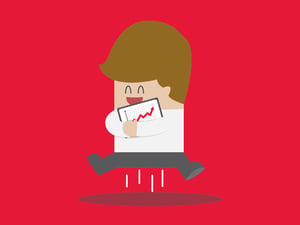 Recruitment is unique in the sense that you need to find your products (candidates) first before you sell them (make placements).
It's this aspect of the job that makes it so rewarding – when you source and place a candidate into a hard-to-fill job, you've really owned the process from start to finish.
As an agency owner, it's amazing to see 100% of your hard work paid directly to you or fed back into your business rather than lining someone else's pockets. You really can't beat that feeling!
2. You work when (and where!) you want
No one's under any illusions here – we all know recruitment will never be a 9-5 job. But as an agency owner, you're in full control of your working hours. Work your schedule around the times you know are best for bringing in business in recruitment – don't be ruled by the Monday-to-Friday grind!
Another bonus about running your own agency is that you're never tied to your desk. With all the best recruitment technology now being cloud-based, you have the freedom to make a new place your office every day. Whether you're formatting CVs from your living room, a café or a beach chair, no one will notice and it should never impact your business.
3. You can do things your way
Whether you spotted a niche in the market that no one was targeting yet, or your boss was a recruitment dinosaur, targeting you on KPIs that were making you bash your head against a brick wall, remember why you decided to go it alone in the first place.
There's nothing more frustrating than being faced with big challenges in the market (or even the industry more broadly) every day that you're not able to address.
Running your own agency is an opportunity to address challenges you know exist in the market and chase the opportunities that will actually make you money. And there's nothing more exciting than that!
We've just published a new eBook covering everything you need to consider when starting up your own recruitment agency as well as real solid tips on how get your business firmly on the path to success. Click to download it below!
Wendy McDougall
Wendy McDougall is Chief Fish of Firefish Software. In her spare time, you'll find her playing squash or feeding her inner geek with the latest technology!
Subscribe to our blog and receive top content to help you reach, engage and recruit more effectively!