Recruitment is an ever-changing industry. In a single year, recruiters around the globe could be working in a candidate-rich market one month, and a candidate shortage the next. If the last few years have taught us anything, it's that we need to be prepared to adapt to change!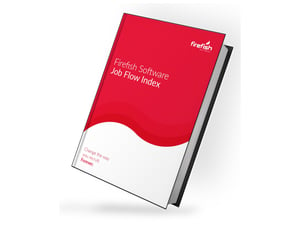 The best way to stay in control of both your recruitment desk and pipeline is to keep up to date with live recruitment trends. The good news is, recruitment statistics are here to help. With data-driven insights, you'll be better equipped to capitalise on market conditions, no matter what challenges the industry throws your way.
Here at Firefish, we publish our Job Flow Index once a month. To give you a taste of the report, we've pulled together four key recruitment statistics from April 2022. With these statistics by your side, you'll be able to plan ahead, make a profit, and blast your way through May and beyond.
1. The number of Job Ads posted decreased but showed a 50% increase on April 2021
The number of new job ads posted in April 2022 decreased from March's total. While this may seem like a bad figure, it was no surprise given that the market tends to slow down in April due to the many Bank Holidays brought on by Easter.

The good news story from April's recruitment statistics is that the number of job ads posted was up 50% when compared with April 2022. This gives a great indication of the strong post-Covid recovery that is being felt across the recruitment industry right now.
2. The average number of qualified applications per job remained at 3
In April of 2021, we saw the average number of applications per job dip to 2 – a number that perfectly encapsulated the shortage of candidates being felt across the industry.
The good news is, this jumped up to 3 qualified applications per job ad in January 2022 and has remained stable into April. While it's not safe to assume the candidate shortage will be over any time soon, it's great to see that candidate numbers are not only up on last year, but they are holding firm despite a decrease in the number of jobs being advertised.
3. Number of temp roles placed exceeded new temp jobs added
While it's clear to see the industry slowed down last month, including the number of new temp roles being added, the conversion rate on existing Temp roles reached a promising 104% – the best conversion rate since October 2021!
This conversion rate affirms that April was an excellent month for Temp recruiters but could suggest recruiters will have lighter pipelines in months to come if the demand for Temp workers continues to decrease.
4. The number of Spec CVs sent decreased by 15%
In April 2022 the number of Spec CVs sent decreased by a significant 15%. In previous months of 2022 we've seen an increase in Spec CVs being sent having a positive effect on the number of placements being made. The decrease seemed inevitable given the decrease in activity across the board in April. This decrease places pressure on any recruiter looking to fill existing roles and suggestions BD activity will need to be ramped up in order to generate new vacancies next month.
To uncover all the statistics from the April 2022's Job Flow Index, and to see future updates, download the full report below.