Now in its fourth season, the Firefish Recruitment Crowdcast has had another fantastic year in 2021.
Guests from all areas of the recruitment industry joined our CEO Wendy to share their insights and expertise on everything from recruitment marketing to how to say 'no' to clients.
Wondering 'how to become a better recruiter?'. Watch the best Crowdcasts from this season and you'll really up your recruitment game in 2022.
1. How To Take Advantage of the Jobs Boom
with Kevin Green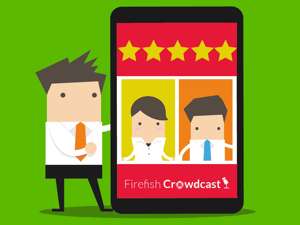 Watch this Crowdcast if…you're looking for new ways to take advantage of the job-rich market.
You might remember Kevin Green from our previous Crowdcast series, or perhaps you've enjoyed his recruitment TED talks – it's fair to say Kevin has a wealth of knowledge on all things recruitment.
In this episode, he gives a detailed insight into the job-rich market and offers tips on how to spot and take advantage of market trends before your competitors do.
Green delivers great advice on how to maximise your time by focusing on your strengths and valuing your recruitment services. He also talks about 'sticking to your knitting' to make sure you become a specialist in your niche. This was a personal highlight for me – give it a watch to find out what he was talking about!
2. How To Make Your Job Ads Stand Out in a Candidate-short Market
with Michelle Davies
Watch this Crowdcast if...you want to create job ads that attract and convert talent your competitors can't reach in a candidate-short market.
Are you tailoring your job ads to different candidate personas? Do you switch your writing style to suit the market? How about leading with the 'what's in it for me' factor?
In this episode, MD of Candidate Source LTD Michelle Davies dishes out excellent actionable job ad writing tips every recruiter can apply to their job ads to make them stand out from the crowd and convert more candidates.
3. Why Now's The Time to Fire Some of Your Clients
with Claire Ackers
Watch this Crowdcast if...you're stuck working low-quality vacancies and want to start working with clients that bring you more long-term value.
When the market is job-rich, it's easy to say yes to any old role, but getting stuck working with clients that bring you little no value is counterproductive – luckily, Performance Coach Claire Ackers is here to help!
In this episode, Claire discusses why you need to start saying 'no' to the wrong kind of clients so you can dedicate time to working high-value roles that bring you good returns.
Watch this to get and get the dose of inspiration you need to start saying 'no' to the wrong kind of relationships so you can start making more placements with fewer clients.
Download: How to Stop Wasting Time on the Wrong Clients
4. How to Practise 'Proper' Prospecting in Recruitment
with Jeremy Snell
Watch this Crowdcast if...you need more clients!
Prospecting is more than just reaching out to your contacts: It's a structured process that can make or break your BD success. But don't just take our word for it!
In this episode, Talent Builder founder Jeremy Snell gives an insightful run-through of all the key features a successful prospecting plan needs to bring in clients.
This Crowdcast is a must-watch for recruiters looking to add value to their prospecting. Jermery talks us through providing great service from the off, adding value with content and other tactics that will warm your prospects up to ensure you're in the best position to get their business later down the line.
5. Recruitment Marketing: How to Cut through the Noise and Stand Out
with Christina Robinson
Watch this Crowdcast if…you're keen to learn how to plan and implement an effective marketing strategy for your recruitment business.
What are the best channels for marketing to prospects and candidates? What type of content do you should you post? How will it benefit my recruitment business? Managing director of Green Umbrella marketing agency Christina Robinson is here to answer our recruitment marketing woes.
In this episode, she breaks down the key aspects of successful recruitment marketing strategies and talks through every point you need to consider when developing a marketing plan that will set you aside from your competitors.
6. How to Maximise Revenue from Your Existing Recruitment Client Base
with Ben Browning

Watch this Crowdcast if…you have long-term clients who want to get more business from.
Did you know that recruiters only get access to around 30% of the potential revenue that's truly available from a client? This means you could be working for a low fee while accessing only a small number of the roles they're trying to fill. So what can you do about it?
In this episode, Ben Browning offers up insight on exactly how to maximise revenue from your existing clients. Watch it now, and thank Ben later!
Looking for the key to success in 2022? Download the Firefish Job Flow index below and get real-time recruitment statistics. Find out what's really going on in your industry so you can adapt in response and really up your game this year.
Andrew Watson
As Product Marketing Executive Andrew shows off all the Firefish features that help change the way you recruit. Keep an eye on our news page and social channels to see what's new with Firefish each month!
Subscribe to our blog and receive top content to help you reach, engage and recruit more effectively!