Do you measure your team's productivity the same way you've been measuring it for years?
Your team are constantly having to adapt to a changing recruitment market, so relying on traditional recruitment KPIs like calls they make won't give you the full picture of how productive their days are.
So how do you measure team productivity in a way that better reflects their outputs and motivates them to progress?
1. Hold daily standups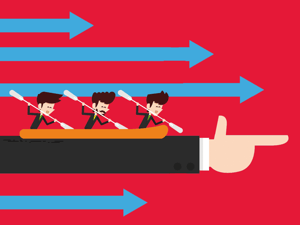 If you're struggling to keep up with what your team is doing remotely, create an environment where they check in daily so you have more visibility on their outputs.
A very short team standup meeting every morning will tell you everything you need to know.
Here at Firefish we use the 'Four P' structure for our standups. Every morning, teams gather together to give a quick overview of the following:
Progresses (what they progressed the day before)
Plans (what they plan to do that day)
Problems (any challenges that are getting in the way of their progress)
Positives (anything positive that happened the day before).
Whether you're holding these meetings online over video software or in the office, this is a great opportunity for you to learn more about outputs and if there's anything you can do to support/ make your team even more productive.
2. Number of interviews per job
In this job-short market, it's inevitable that your recruiters won't be making as many placements as they were two years ago.
With this in mind, measuring productivity on number of placements will be demotivating for them and will fail to give you full view of all the hard work they're doing.

As an alternative, you can measure productivity in terms of how well they're maintaining a strong candidate network and how effective they are at building shortlists by focussing on the number of interviews per job they take on.
To calculate interviews per jobs on, do the following:
Total number of interviews / total number of jobs on
This will help you see which recruiters in your team are being productive where it counts – and that's working jobs that could potentially turn into placements. When the market levels out after lockdown, these are the recruiters who will really excel.
3. Net review score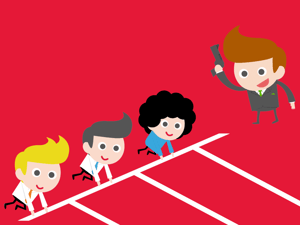 Your net review score can reveal a lot about how much time and effort your recruiters are spending on building and maintaining relationships with clients and candidates.
Your business depends on the happiness of your clients and candidates – especially in this job-short market where we rely on repeat business to keep revenue steady.
To calculate your net review score, take the star ratings of reviews from the last quarter and do the following calculation:

Add all star ratings together / by number of reviews
If you find you don't get enough reviews per quarter or six months through, incentivise your recruiters with a reward for the person who gets the highest number of reviews. This will help you get the figures you need to measure your team's productivity and gather more positive reviews to share online too.
4. Recruiter conversion rate
Some recruitment sectors have been impacted by Covid-19 more heavily than others. If your agency recruits across a few different sectors, it's likely that some of your recruiters will be having a tougher time of it than others right now.
If you focus exclusively on how much each recruiter is billing, you can easily overlook some of your best performers.
To ensure you have total visibility on your top performers, use the job conversion rate to calculate who's really converting the most business, based on the opportunities in their market right now.
Use the following sum to calculate job-conversion rate:

You can easily work this out for your team using the recruiter conversion calculator below. Just input your team's placement and job numbers and let the tool crunch the numbers for you.
Sophie Cunningham
Sophie is a Content Marketer here at Firefish! After working as a 360 Recruiter she found her perfect niche here at Firefish writing about recruitment.
Subscribe to our blog and receive top content to help you reach, engage and recruit more effectively!