February can be a tough month for recruiters. You've kicked off the year with a bang, but how do you keep the momentum going when your motivation is beginning to lag? It can be tricky, but there are lots of tools out there that can help you keep on track and improve your performance.
We've gathered together our top go-to productivity tools for recruiters - plus a free productivity hack download when you reach the end of the list!
1. Slack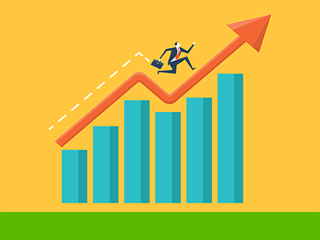 Slack is ideal for keeping in regular contact with colleagues without having to waste precious minutes opening and signing off emails.
Slack allows you to create a business-only messaging channel and invite team members into specific sub-channels for different projects or areas so discussions are focussed and relevant. You can also easily share files and data easily within the the channel and even set automatic task reminders for both yourself and your team.
Slack's available on both PC and MAC so you can stay logged in across operating systems and respond to messages easily even when on the go. It also eliminates lengthy email chains that only clog up your inbox! You can even search keywords within the app to find conversations even from months previous.
2. Evernote
For the busy recruiter it's no easy task staying on top of the numerous clients, candidates, and interviews each day presents.
A good CRM will help, but another handy tool is Evernote - a free app that keeps you on tabs of everything going on with your workload through taking notes across different devices and synching them up.
You can even save web pages, images, and documents which is great for things like backlogging content for social selling. It also has a search feature so you'll never waste time searching for any of your saved documents.
3. Rescue Time
Ever get to the end of a long working day and still feel like you haven't achieved anything? Unfortunately, it tends to be the times when we're busiest that we procrastinate the most - but there are tools there to manage this!
Rescue Time is a neat piece of time management software that gives you a clear picture of exactly how and where you're spending your time online and most importantly - where you're wasting it.
It's great for identifying those sites or habits that devour your time and result in you having to work late into the evening, and it also keeps tabs of the most unproductive habit most recruiters have: Forgetting to take breaks!
Read: How to stop procrastinating when you have a high workload
4. LinkedIn
LinkedIn is the number one professional social media website in the world, and it's one of the most popular tools for recruiters. It's not only useful for posting jobs and sourcing candidates; it can also be used to create brand awareness by sharing regular links to blog posts and thought leadership articles.
This year, instead of using LinkedIn just to curate content, try adding your own voice to the mix – whether it's using Pulse more or participating in groups, give it a bash!
5. Hootsuite
For recruiters, it's important to make sure all social media networks are updated daily with relevant content - no easy task!
Using a social media tool like Hootsuite helps you keep on top of all of your accounts from one handy dashboard. It also lets you analyse the performance of your content, and monitor its success, too.
Hootsuite helps you to understand your audience better, create and curate more relevant content, and increase engagement as a result.
Read: 5 browser extensions to make you a more productive recruiter
6. Followerwonk
Followerwonk is a free search tool that allows recruiters to search for people who work in certain industries via Twitter. This can be useful for a recruiter who is looking to hire someone for a speciality or niche role.
You can search Followerwonk by using keywords such as 'Bio Technician Glasgow'. The software then brings up a list with every Twitter profile related to your search terms. This increases your ability to interact with candidates and build up relationships with relevant people. Followerwonk is a great way to save time as you don't have to search for email addresses, and you can directly message people instead in seconds.
7. Spark Hire
Spark Hire is a software platform that allows you to utilise videos for interviewing, which saves a lot of time, money and resources for recruiters, clients and candidates.
Spark Hire helps you to pre-record interviews, or take part in live interviews that can then be viewed by the client, as well as other members of your team. Spark Hire is a paid for video software with various plans available.
8. Peoplogica
Every recruiter wants to attract the best candidates and talent. Peoplogica is a great tool and resource that helps recruiters ensure that they have the right person for the role in question. It uses psychometric testing to help identify the candidates best suited to a role, increasing the effectiveness of the interview stages.
This type of software helps recruiters improve performance via an effective platform that saves time and improves hiring rates.
So there you have it! 10 hot productivity tools to see you through 2016. Let us know with a comment below if there are any that we've missed.
Jenna Niblock
Jenna is a freelance writer and journalist. When she's not at the keyboard Jenna likes to follow politics and current affairs and loves a good debate!
Subscribe to our blog and receive top content to help you reach, engage and recruit more effectively!