Email is still one of the most effective ways to market to candidates and clients, so skimping on your recruitment email campaigns could be seriously impacting your company targets. That said, there's no denying that it can be hard work to get your email marketing right!
To help you up your game, we've put together some common email marketing mistakes that we see recruiters make time and again - plus some tips on what you should do instead.
1. Underestimating the power of subject lines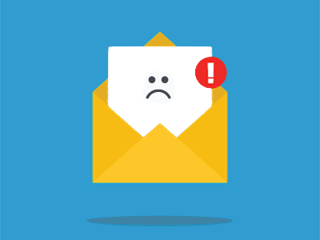 If you're reading this blog post, there's a good chance you arrived here by clicking a link in an email we sent to you (because you guessed it – around 70% of our blog's traffic comes from email marketing!). So, if you're part of that 70%, what was it that made you open the email, and what made you click?
A good guess would be the subject line: research has shown that nearly half of your email recipients will decide whether to open your email or delete it purely on the subject line alone. Of course, the goal isn't just to ensure your email is opened, but that the content is read and is enticing enough that the recipient clicks through to the next stage. But the chances of achieving this goal if your subject line isn't up to scratch are slim!
Here are some tips on what makes a great subject line:
Keep it short: Ideally, you should keep your subject line under 50 characters
Don't use 'all caps' or overdo it with the exclamation marks. PLEASE!!!
Don't be misleading. Your subject line should be consistent with your email content – and no clickbait!
Keep it simple but also informative – show candidates that your email is worth their time
Try to use language that promotes urgency or curiosity
Don't be afraid to get a bit creative, or even funny!
2. Sending messages without unsubscribe options
With GDPR just around the corner, this one matters more than ever: Don't send emails to anyone who hasn't given you permission to do so. And yes, this does include that new contact who just accepted your LinkedIn request! You should only deliver content to those who have subscribed for it, and who actually want to hear from you – otherwise, what's the point?
It's also true that your email subscribers can change their minds at any time. What if a candidate or client decides they no longer want to receive your communications? The key here is to avoid making it difficult for them to opt-out if they want to. Every single email that you send should include a clear (and easy to find!) one-click 'unsubscribe' button.
3. Not outlining your goals
Put it this way: if you don't know what action you want your recipients to take after reading your email, neither will they! That's why it's so important that you define a purpose for every email that you plan to send out, and that you include a clear CTA (call-to-action, or link to where you want them to go next) in your email in order to achieve this goal.
For example, if your aim is to prompt a candidate to apply for a role, your CTA will trigger this action if it appears as an 'apply now' button that links the candidate straight to the job page on your website. If you don't give candidates a clear indication of next steps to take, what is the point in your email in the first place?
4. Forgetting to test an email
Apart from being well-written and engaging, your emails should always look professional. There should be no formatting issues (which often don't show up unless you test-send), no broken links, and of course, no spelling or grammatical errors in your emails.
When you test your email, you'll be able to see exactly how it appears in candidate inboxes and amend anything that's undermining your communication. Of course, mistakes do happen but try to avoid them as much as possible or it will look careless.

Would you trust a recruiter who sent you an email that began 'Hi [FIRST NAME]'? or with a spelling error in your name? Me neither.
5. Not reviewing your stats
It's important that you make time to analyse how your emails are performing and see what you can learn from your results. Have a look at your open rates and click-through rates: What are your contacts doing after they open your emails? Are they clicking and converting? Are they unsubscribing?
Underperforming emails can tell you just as much as the successful ones can – both can provide valuable insights that lead you to make necessary changes to your strategy. By consistently assessing and tracking your stats, you'll start to see trends and notice what's working and what's not. And learning from your mistakes is an important part of the process.
Making mistakes in your recruitment email marketing isn't the end of the world (you're only human!) – the important thing is that you learn from your mistakes in moving forward.
If you're just getting started with your email campaigns or could do with some help in brushing up on your technique, download the eBook below.
Gabriela Ochoa
Gabriela is an Email Marketer but in her spare time you'll find her doing Bikram yoga, listening to records and drinking copious amounts of tea.
Subscribe to our blog and receive top content to help you reach, engage and recruit more effectively!