It's a funny old game, recruitment. You spend a large amount of time meeting with clients, selling your services and getting 'jobs on' with them. Then you spend another chunk of your time finding the candidates who are going to blow everyone else out of the water and scoop that coveted role. But sometimes, just sometimes, the process isn't so smooth and your client isn't impressed with the candidates you've put forward.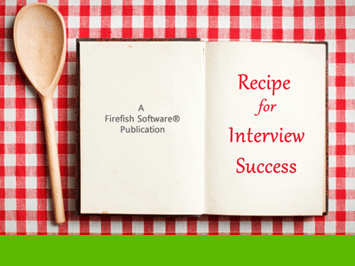 Sound like a familiar scenario? Well, there's no guaranteed recipe for success (if there was, everyone would be a recruiter) but there are some steps you can take to ensure your candidates are putting their best foot forward in interviews...
Your candidates represent you, your choices, your work and your personal brand- like it or not. It's great to have a reputation for leaving your clients spoiled for choice but it works both ways and your clients won't accept disappointment very often.
Has everyone got this?
The best recruiters keep everyone involved and in-the-know throughout the process. A common mistake recruiters make is to place more importance on their clients, and it shows! If your candidates are feeling a bit neglected and un-informed then they're not going to be full of confidence going in to meet your clients. Manage everyone's expectations in terms of timescales, when/if you'll be in touch and give honest feedback at every stage. The most well informed candidates will bring their A-game.
Fuel up!
There are numerous analogies I could use here but let's not get too carried away… How do you feel when you leave the house in the morning without having had your breakfast or that vital cup of coffee? Are you really set up for a successful day? Well, give your candidates their theoretical recruitment breakfast. Fill them up with goodness: encouragement, insider info on their prospective employer, how to dress, experience to highlight from their CV… Every little helps!
So, what's she like?
In an ideal world, you'll have been in close contact with the client's hiring manager to fill the role and will have got to know him/her quite well. Use this to your candidate's advantage. Find out who will be interviewing them and - using your insider knowledge, LinkedIn, and company 'meet the team' pages - ensure your candidate knows enough about their interviewer to make the whole process seem less daunting. Sometimes, putting a face to the name, or even just knowing a name, is enough to ease any pre-interview nerves.
You can't sit with us!
Have you placed with this client before? Have you been out for a site visit? Do you regularly check in with the company? It always helps to give your candidate a sense of the office culture they could be heading into if they're successful at interview.
Recently, a few companies have had job ads go viral because they've contained swearing or what some people would call 'exclusionary language'. The companies in question have defended this by saying if people are offended by the ad they're not the type of person they'd want to hire anyway. You don't want your candidate to be interviewing somewhere they won't be happy with, so tell them all you know.
Recommend they read up on the company website, social media, and watch any relevant online videos – perhaps even create your own 'info pack' on that client for use now and in future. This may sometimes mean a candidate doesn't want to meet with the client at all, but it will save you refunding a fee if the placement breaks down in a few months' time.
Do you have any questions?
We all know a client is bound to say those 7 fuelled words at the end of the interview; "Do you have any questions for us?". We also know a client probably won't be impressed by a candidate who says "No" or the classic cop-out "You answered everything already". Help your candidate out by giving them a few questions they can have pre-prepared and at the ready. Questions show initiative, enthusiasm and reinforces suitability for the role so after all your hard work, don't let your candidate fall at the very last hurdle.
Megan McBurnie
Megan worked as a recruitment consultant, recruiting in the Office Services, General Insurance and Legal markets.
Subscribe to our blog and receive top content to help you reach, engage and recruit more effectively!