Even just putting the smallest of budgets behind your social recruitment strategy will instantly unlock useful new features, help you reach better quality candidates and get your company brand onto more screens, more frequently. And how do you get the best return for your cash?
If you're reading this thinking you don't need to start spending cash on social media as you're already feeling confident about the organic growth you're seeing without having implemented a budget, did you know your followers are only seeing between 10-20% of the content you post?
Just think about the success you could be having if you bring a small amount of cash into the mix!
Why paid social matters in recruitment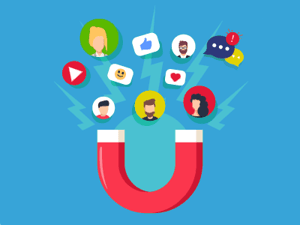 Embracing social media advertising is something that recruitment businesses of any size will need to consider doing soon enough. As much as 79% of job seekers now use social media when looking for a new job, and this number jumps to 86% for younger job seekers at the early stages of their career. The number of candidates using social media for job hunting will only continue to rise as time goes on and younger, more social media-savvy generations enter the job market.
It's clear that having a social media strategy for recruitment is already necessary to meet candidate needs - and using a budget is the only way to ensure you cut through the noise and continue to reach top talent. The sooner you accept this, the quicker your results will improve.
Unfortunately, most social media channels are moving in a direction that forces businesses to pay up if they want to continue getting the results they want. So whilst you might feel that you're doing fine without a budget in your strategy at the moment, avoiding paid social isn't going to be a long-term option for any business.
Looking on the bright side, using paid social can unlock a whole other level of interesting new opportunity: you'll reach more relevant candidates, you'll have a load of new features to explore that will help pull in more passive candidates, and you'll be keeping up the technological pace.
Download our free eBook!
As we all know, recruitment is a fiercely competitive industry, so you need to be pulling out the stops to stand out – and paid social is a really effective way to do it.
That's why we decided to put together a free eBook download on how to implement a budget to your social media recruitment strategy in a way that gets results. Click to download below!
Katie Paterson
Katie once headed up the Firefish blog and marketing team. She now works as a freelance copywriter and continues to contribute to our award-winning blog.
Subscribe to our blog and receive top content to help you reach, engage and recruit more effectively!