So, you've hit go on your recruitment agency's blog but all is not running well. You're struggling to generate content that resonates with your audience, no one is reading what you publish, and all you can hear on social media is… silence. Not to fear. We've got some quick and easy pointers to help you troubleshoot your blog and get things running smoothly so you can sit back and reap the rewards that a successful blog provides…
1. You've Not Given Your Blog Enough Time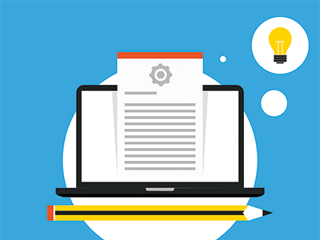 Before you panic, take a moment and evaluate your blog. Are you happy with the content? Are you marketing it out well on social? If your blog is new it might just be taking time to resonate with your audience. So, some self-reflection is needed here. Be realistic. Running a successful recruitment agency blog takes plenty of work – you might need to keep at it a little longer before you can evaluate its effectiveness.
2. The Purpose Isn't Clear
Can you define your blog and its purpose in one clear sentence? If the answer is no, then this is something to work on. Why are you writing content? You need to have a good reason here otherwise you're simply going through the motions and this won't lead to a good return on your efforts.
3. You Haven't Defined Your Audience
Another big reason for a blog to be unsuccessful is a poorly defined audience. If you don't know whom you're writing to, then you can't easily identify pain points or relevant talking points to create content for. This massively impacts on your blog and its effectiveness and so if you can't define your audience easily in one sentence, then it's time to return to the drawing board. Focus on creating some clear audience personas, and you'll find writing content that resonates to be much, much simpler.
4. It's Not Optimised for the Web
Once you've defined your purpose and your audience, it's important to look into how well you're optimising your content for the internet. Are the paragraphs short and snappy? Are you making good use of headers throughout your content? Good content is clear. So, make sure your writing is easily readable.
Another area to invest some time and effort into is good SEO research. Start by thinking about what your target audience is likely to type into search engines. This will help you optimise your content alongside enabling you to write content that's better tailored to your audience. For further advice, download our 'Recruitment SEO for Beginners eBook' here.
5. You're Not Adding Value
This one is more subjective but it's another good thing to consider. Is your content written for your audience? Are you giving them insights and ideas they couldn't find elsewhere? If candidates and clients could find the same information on another blog there isn't a good reason for them to stick around on your blog. Similarly, it means your audience is less likely to share out your content on their social networks if it adds no value.
A big mistake that many recruitment agencies make is sharing out news articles alone. Of course, self-promotion has its place but it's only a small part of your audience that will be interested in this type of content. You need to make sure your blog is adding value to as wide a market as possible. That's why you need to create content that provides relevant insights and actionable advice for your audience.
6. You Don't Have the Right Voice
Once you've spent time getting to know your audience, you can then review how you're talking to them. If you've got the wrong tone and you're using the wrong sort of language then you'll quickly alienate your readers. So, tweak, tailor, and edit the way you're speaking to your audience until you find a relevant tone that suits them.
7. You're Not Building a Mailing List
Another problem many recruitment marketers face is not having a relevant, tailored audience. It's almost impossible to run a successful blog without this resource. So, if you're not making it easy for candidates, prospects, and clients to subscribe to your blog, then you're missing a trick. By building a blog subscriber list, you can start to gain actionable insights into the type of people who are reading your content. Plus, you now have a relevant audience you can notify whenever you post a new piece of content. For further help with email marketing, download our 'Getting Started with Effective Recruitment Email Campaigns' here.
8. You're Not Publishing Consistently
If you're not publishing content to a consistent schedule then people are less likely to tune in to see what you've got to say. A regular blog every Monday morning is something that your audience can rely on and they'll come to expect it, too. This means you'll have less work to do promoting your content as your audience is already primed for your messaging. Plus, there's plenty of research that shows posting a blog on a regular schedule makes it easier to grow your blog.
9. You're Not Promoting Your Content
For many recruitment blogs, the big problem is not promoting the content. After all the hard work putting it together, why would you neglect to tell everyone all about your brand new blog? You need to generate some buzz and keep promoting your content across all the key social media sites. It's important to add in your blog posts to your social media strategy and make a fuss on social media when your new blogs go out!
10. You're Not Analysing the Results
For every blog post, you need to measure the results so you can understand if you're growing your online reach. If you're not analysing the results then you won't be able to monitor what's working and what isn't. This type of analysis means you can begin to understand what type(s) of content work best for your recruitment agency and your audience, too. Make sure you're spending time digging into the effectiveness of your content.
So, those are our ten top tips for ensuring your recruitment agency blog is a success. If you'd like further help and advice, download our eBook below and set your recruitment agency blog up the right way.