It's cheap, easy and effective. So what is this mysterious method that probably isn't even on your radar? It's LinkedIn's recently launched sponsored updates! Trust me, they are definitely one for your considering list. If you've heard the buzz but don't have the time to research them, then read on for everything you need to know.
What are Sponsored Updates?
If you're familiar with Facebook's Promoted Posts (which you'll have seen plenty of even if you've never created one – they appear in news feed 'disguised' as normal content) then you're not a million miles away from understanding LinkedIn's Sponsored Updates. Basically, you pay to promote chosen posts to your selected target audience.
Why are they good?
Most recruiters will focus their spending on job boards, leaving little budget for much else. However, social advertising can actually be more effective for recruiting passive candidates as well as winning new business, and it's generally much cheaper. How much cheaper, I hear you ask? Well, you can decide whether you'd rather pay cost-per-click (CPC) or cost-per-thousand-impressions (CPM) . It's probably worth just clarifying that "impressions" are how many people see the post (but not necessarily click on it). Then all you need to do is set a budget and a bid, so the cost is controlled and allows you to intuitively measure how competitive advertising is in your target audience.
You can use criteria such as location, company size, industry, job title and position to target your campaign. This is incredibly valuable, particularly for recruitment. Say you've got several financial manager vacancies in sunny Glasgow. You could promote a relevant blog or post to target only financial professionals in the west of Scotland. And that way, not only are people who are actively looking likely to see it, but candidates not currently looking might see your fantastic opportunity and realise that they should be!
Do they work?
There's only one way to find out! But it's reasonable to say that you can expect good results. The fact that you are able to be so precise about who you're targeting means that you're not wasting time and money on irrelevant eyes. There are no upfront costs, so you only ever pay when someone actually sees or clicks your post. It's also extremely easy to use - campaign managers can start, stop and edit their campaigns at any time. So if your campaign isn't producing the expected results, you can simply stop it and start a new one.
LinkedIn also provide real-time analytics which allow an overview and insight into the campaign.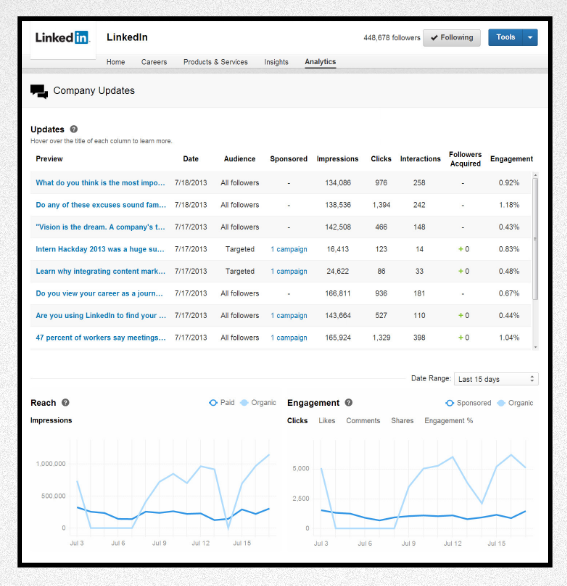 Any famous fans?
Mike Volpe (CEO of Hubspot) is a fan, saying, ""We have seen very high quality leads coming in from our Sponsored Updates on LinkedIn. Not only can we target the audience we want to, we can promote our best performing content, getting even more out of this marketing solution." Check out other sponsored content recommendations coming from American Express OPEN, Xerox and Lenovo. With all of this buzz, are Sponsored Updates something which you can really afford to ignore?
If you're starting to think NOT (good answer) then you'll find all you need to know about getting set up on this handy Sponsored Updates user guide. It has clear and easy instructions on how to create and manage your sponsored updates, and really doesn't take long to read.
Sponsored updates really are likely to hit the road running. As we all know that a successful recruiter is one who doesn't shy away from new technology and social media, so what are you waiting for? Give it a whirl, and let us know what you think!
Kara Shorthouse
Kara is a Digital Marketer based in Glasgow. In her spare time she loves a good gig, ponies and flattering Snapchat filters.
Subscribe to our blog and receive top content to help you reach, engage and recruit more effectively!