These days, it's unlikely you'll find anyone who doesn't use an emoji in friendly digital conversation. But, increasingly, there are opportunities to use emojis in recruitment, too. They provide an indication of tone and body language that's often lost in plain text communication. A picture, after all, is said to be worth 1,000 words.
With that in mind, we've put together a few key recruitment phrases in emoji. Do keep in mind though that the following emoji phrases should only be used when you've developed a relationship with a candidate. Read on for some great examples of how you can use the world's fastest growing language when communicating with candidates…
Add Context with Emojis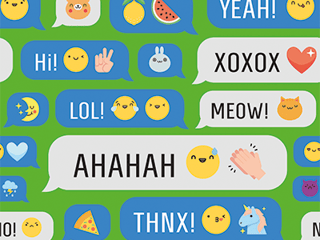 You may not feel there's a time and place for emojis in a professional message, but there is. They can be used to add a personal element to your messaging and they can be a good way to add context to the text in emails, social updates, and SMS messages. Emojis provide an indication of tone and body language that can be missed when using words alone. If you're looking for a way to spice up your messages, why not try out some fun emojis to copy and paste.


Emojis help you inject colour and personality into your digital conversations with candidates, and they provide a welcome brevity, too. This means candidates can quickly read and get to the point of your messages, at the same time as easily understanding your tone. But my basic rule when it comes to using emojis is: only when you know the candidate... After all, you wouldn't go in for a kiss on the cheek when first meeting someone. It would be a handshake first. So, use emojis, but only after you've got to know the person well enough.
For a bit of fun, we've put together a few emojis to illustrate a recruitment workflow we're all familiar with...
Key Recruitment Phrases in Emoji
1. Just In, Hot New Role

2. CV Submitted

3. Good Luck with the Interview

4. Client Just Called: Where Are You???

5. How Was the Interview?

6. Offer In

7. Whoop, Whoop! All Confirmed!

So, those are our tips for using emojis in recruitment. Emojis are great for conveying tone and emotion. Obviously, they're not suitable for every role or candidate. But used in the right context, you can add a little bit of fun to every job.
Wendy McDougall
Wendy McDougall is Chief Fish of Firefish Software. In her spare time, you'll find her playing squash or feeding her inner geek with the latest technology!
Subscribe to our blog and receive top content to help you reach, engage and recruit more effectively!