Have you ever tried using candidate personas to take your recruitment strategy to the next level? Creating personas at the very start of the hiring process helps you build a clear picture of exactly who it is you're looking for so you can spend less time, money and effort finding that perfect-fit candidate for your client.
What are candidate personas and when do you use them?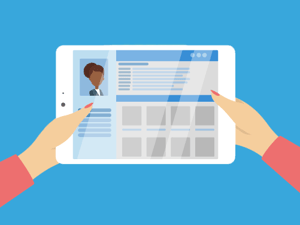 Candidate personas are semi-fictionalised representations of people boasting the skills, traits, characteristics and experience that would make them a perfect fit for a role you're recruiting for.
The idea of creating personas is taken from the marketing industry, where marketers will perform research in order to get a thorough understanding of their target audience and create 'buyer personas' of their ideal customers.
The recruitment industry can really benefit from this technique, as building out personas can help you focus your recruitment strategy on who exactly it is you're looking to hire. It's easy to waste a lot of time and money spraying and praying for the best – personas help you get laser focussed with everything from the way you write your job ads, how and where you market a role and which candidates you shortlist for your client.
As creating a candidate persona for a role does take time, this is something you'd probably want to reserve for bigger recruitment challenges such as finding a purple squirrel, working a retainer or even to supplement a pitch for retained work as it's a good way of showing a prospect that you truly understand who they're looking for.
Why are candidate personas so effective in recruitment?
Although candidate personas aren't used prolifically in recruitment, they should be! Here's a few reasons why they work so well in this industry:
Candidate personas help you build a clear, tangible, realistic picture of exactly who it is that you're looking for
If you create a candidate persona and present it to your client, it can reveal gaps in the information they've provided you and provides an opportunity to iron out any miscommunication before you begin working the role
Personas offer direction in terms of helping you create job ads that will speak directly to the candidates you want to target and increase right-fit applications as a result
They give you a clear idea of which channels and keywords you should be focussing on when promoting your job ads (e.g. if you're recruiting for a graphic designer, are you sourcing on Pinterest?) and help you lazer target right-fit audiences in your recruitment marketing strategy (which, in turn, will also cost you less cash)
They support your assessment of every CV/ application that crosses your desk to ensure you're qualifying in line with what the client originally asked for.
So, it's pretty clear that creating candidate personas can be fruitful in recruitment!
But how do you get started in building them out?
How to create (and use!) candidate personas effectively
Step 1: Do your persona research
Before creating your candidate personas, you'll need to do some research to find tangible proof of right-fit candidates – as much as you might think you already know who they are, don't rely on instinct for this!
Spend some time digging around in your recruitment software to establish what top performers in similar roles already look like. This could involve pulling out candidates who you've previously hired successfully into the client's company already (so you know they fit the culture of the business, etc.), or simply just those candidates in your system who are clearly relevant to the role in question as they work in the same role or very similar roles.
Look for patterns in these candidates' education, experience, career path and location to build a picture of who your ideal candidate could be.
Step 2: Use your data to decide where to focus your efforts
Whilst you have these right-fit candidates from step one to hand, look for information on how these candidates came into your recruitment database in the first place. Did they come in through SEO? From a candidate referral? From a particular social media platform?
Use the insights you gain from your database to give your strategy some direction in terms of where you should be focussing your efforts when building out a recruitment marketing campaign.
Step 3: Map out some personas!
Begin drafting out 2-3 candidate personas based on the data you've gathered from your CRM.
Step 4: Build your winning job profile
Once you've created your top candidate personas (you normally want 2-3 for a role), you can start using these to create a winning job profile, create job ads that speak directly to your personas and start sourcing in the places where you can be confident your ideal candidates spend their time.

And each time a new candidate crosses your desk – cross reference them against your personas before you qualify them in to your shortlist and send them on to your client.

Download our free persona toolkit below to get started!


Katie Paterson
Katie once headed up the Firefish blog and marketing team. She now works as a freelance copywriter and continues to contribute to our award-winning blog.
Subscribe to our blog and receive top content to help you reach, engage and recruit more effectively!