As recruiters, we have a tendency to dread the 'slow' summer months and can easily spend them scrambling around to make up our numbers. But summer is actually one of the best opportunities we get all year to fill difficult jobs – provided you know how to make the most of the situation.
We all know how tough it can be for candidates going back to work at the end of a relaxing holiday. And as recruiters, we can capitalise on this by targeting candidates who've got a case of the post-holiday blues.
Why you need to make the most of summer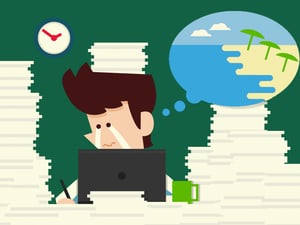 Around 24 million Brits travel abroad during the summer months - think of this as 24 million opportunities to convert holiday blues into a new placement.
Holiday-makers also spend an average of £656 when they're on holiday.
As a result, a lot of candidates come home feeling the post-holiday pinch, making jobs with a bit more dough more appealing than usual.
How to make the most of holiday blues
1. Focus on passive candidates
There's nothing like two weeks in the sun to turn passive candidates into active ones. They've gone from plodding along in their 9-5 routine to dreading getting up on Monday morning, so it's the perfect time to sell them a job that they're excited about.
To hook in passive candidates, send targeted emails with subject lines that empathise with their situation (e.g. "Feeling the post-summer blues?"). This triggers emotions and offers them a solution to their problem… your job.
It's also a great time to target passive candidates working at companies that don't have competitive salaries. As mentioned, people will be feeling strapped for cash after a big summer blow-out, so this is your best chance to turn their head with a bigger pay day.
2. Write job ads that play on summer blues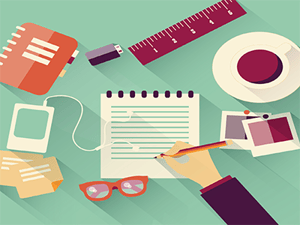 A job ad can determine whether a candidate does or doesn't apply for a job - even if they're perfect for it. So use targeted job ads to lure in candidates who are suffering from post-holiday blues.
Play on the emotions of people who've just returned from holiday by asking questions like, "Dreading work on Monday?", "Feeling stressed at work?", and "Has your job lost its spark?". If they're just back from a relaxing holiday they'll relate to those feelings and engage with your job ad.
To really sell your role, focus on the job perks that are the most tempting after a holiday, like work-life balance, self-development opportunities, a great holiday allowance and relaxed company culture. These benefits will speak to someone who is dreaming of being back on the beach relaxing.
3. Don't exclude candidates who are still at the beach
When you're on a mission to reach candidates who are feeling the post-holiday blues, you're inevitably going to run into some who are still away, relaxing by the pool.
If they're in full holiday mode and not in the mood to talk, you can still out-manoeuvre your competitors by arranging a follow-up call for a few days after they get back to work. By then, their workload will be sky high and they'll be wishing they were anywhere but their office.
And in the meantime, you could drop them an email with your 'Jobs of the Week' to tempt them while they're reading emails by the pool.
4. Create urgency
The key to capitalising on holiday blues is remembering that it won't last forever, so you need to act fast. Your candidates will soon settle back into their 9-5s as their post-holiday blues get swept aside for another year. So get your candidates committed to your jobs before they decide to stay where they are, or worse, get snapped up by another recruiter.
Creating urgency in your job ads, LinkedIn messages and when you're selling jobs over the phone will help move things forwards. Do this by hinting that the process is already underway or that it's very competitive role – if the candidate believes the job won't be around for long, they'll move to application quicker and won't have time to lose interest.
Starting the process with a bit of time pressure also means you can keep the momentum going and fill the role quicker.
Once the post-holiday blues period wears off, you'll need a really strong sourcing strategy to fall back on. Our sourcing eBook can help you with this:
Alan McFadden
Alan is the Associate Director of Growth at Firefish. An agency recruiter in a former life, he loves helping recruiters find ways to recruit smarter.
Subscribe to our blog and receive top content to help you reach, engage and recruit more effectively!