We all know how tough it is to find top talent these days. So when you do find an excellent candidate who you know would be perfect for a role you're recruiting for, how do you sell the job to them in a way that's guaranteed to hook them in and make them want to apply?
If the candidate is as great as you think they are, you can guarantee you're not the first person to get in touch with them that week about an "amazing opportunity" they'd be crazy to miss. There's a whole lot of competition out there, so we need to be smarter about how we sell our jobs.
Let's take a look at some of the most important things to keep in mind when selling opportunities to candidates once you have them on the phone.
1. Find out what the candidate actually wants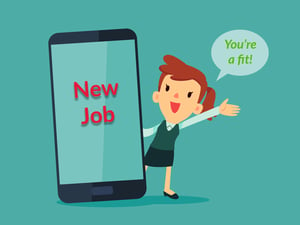 You've spent a lot of time and effort sourcing this great candidate, you've piqued their interest and got them on the phone for a chat. At this stage, the last thing you want to do is jump in and sabotage all your hard work by rattling off the details of your best jobs and their benefits.
As any good sales person will agree – the first step towards a successful sale is to start by asking questions.
Ask the candidate what they're looking for in their next job. Aside from salary expectations, you should also be able to gather what priorities are important to the candidate and sell against those specific priorities. Tailor the perks of the job to suit the candidate's specific requirements and you'll have a much higher chance of convincing them that it's a right fit for them.
2. Explain why they're a perfect fit for your role
Just telling the candidate that they're perfect for the job isn't going to convince them – you need to explain why you think they're right for the role and back it up with details you've learned about their particular skill set and experience.
That way, they'll see you've done your research and that you care about finding them a job they'll love. Show them they're more than just a bum on a seat and a job filled for you!
When listing out a few of the main skills required for the job, bring each point back to why the candidate's background is so suited to each thing you mention.
For example, you could something along the lines of "Steve, the line manager is looking for someone with extensive payroll experience, and with five years of this under your belt, I know he'd be very interested in meeting you."
If you give the candidate this level of detail and clearly demonstrate how suitable they are for the role, you'll build their confidence that they really are a good fit and will be more likely to buy into the opportunity.
3. Sell the company and culture
A company's brand and culture has a massive impact on whether or not a candidate will want to join their organisation. In fact, 75% of job seekers say they won't apply for a job unless they like the brand and 35% wouldn't accept a job offer if they felt the company was a bad cultural fit – even if the role was a perfect match in every other way.
If you're an in-house recruiter, you'll have plenty of first-hand experiences to tell the candidate about why you yourself have chosen to work for the company.
If you're an agency recruiter, try to gather some insights about why current employees love working for your client and offer to send proof over by email (employee video testimonials, or a link to their company page on Glassdoor, for example).
Either way, try to highlight the unique selling points (USPs) of the candidate's potential new employer in a way that will help make the business stand out. And when selling any company benefits, always be honest – if you try to dress up legal requirements (for example, legal holiday requirements) as employment perks, the candidate is likely to see straight through this and you risk losing them entirely as a result.
We have a whole section dedicated to hooking in top talent in our Ultimate Guide to Candidate Sourcing. You can access your free download by clicking the button below.
Sophie Cunningham
Sophie is a Content Marketer here at Firefish! After working as a 360 Recruiter she found her perfect niche here at Firefish writing about recruitment.
Subscribe to our blog and receive top content to help you reach, engage and recruit more effectively!